There was more to Marussia's Monaco breakthrough than a high attrition rate
Sky F1's Mark Hughes says the team have made genuine progress with their car, despite budget limitations
Last Updated: 27/05/14 5:00pm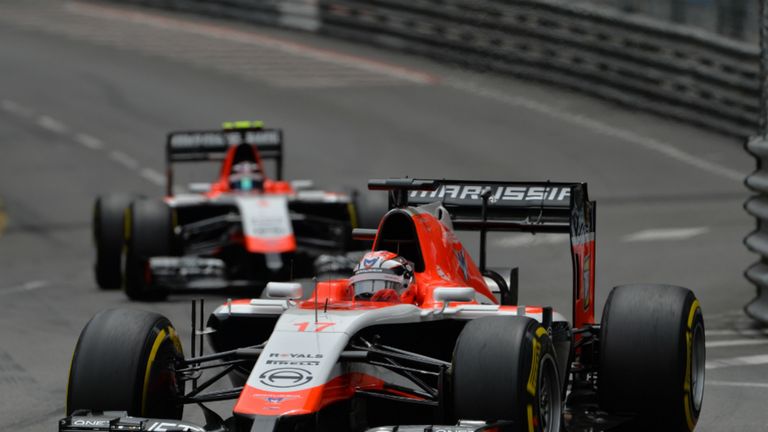 Bianchi's was a superb alternately attacking and conserving drive that included a tyre-rubbing pass on Kamui Kobayashi's Caterham at Rascasse. But it was about more than just that and the usual higher-than-average attrition around the Monte Carlo street track. It was also about genuine progress the team has made with the car.
A mechanical change that allowed fuller access to the car's aerodynamic potential combined with changes to the front wing endplate and diffuser flap panels formed a package first tried at the Barcelona test held immediately after the Spanish Grand Prix. These changes were described as 'cheap as chips' by the management - and that is always a hugely important consideration for this team that operates on around a quarter of a top team's budget. Confirmation that Marussia was on a productive path with these changes came as Max Chilton - fitted with a set of super-soft tyres with everyone else on harder rubber - headed the times on the first day. It wasn't as though anyone was kidding themselves that this represented reality but as commercial director Graeme Lowdon pointed out: "Whenever we'd done this in the past, it might've moved us up to 9th or 11th. But at Barcelona we knew our deficit was bridgeable with the tyres - and that represents a big jump.
"More realistically, we feel we are now within reaching distance of Sauber just ahead of us and had things gone slightly smoother during qualifying at Monaco we're pretty sure it was a Q2 car there. That won't be the case in Montreal, as that's a unique track that really demands a specific Montreal/Monza package and we can't afford to do that. But it's by far the most competitive of our four cars to date since we started. It takes time to build DNA into a car, which is the embodiment of a knowledge base - and that can only help going forwards.
"We actually have more performance to put on the car, but as always it's a question of which ones we can afford to implement. That's the key for us - proper, good, ingenious engineering that gives us solid lap time for not much outlay. Bigger teams can throw piles of money and see what pops out. We can't. But as well as the updates, the Barcelona test allowed us to work with our set up, get a better understanding of the car and access more of its potential."
Practice suggested that Bianchi did indeed have Q2 potential but in the super-busy Q1 he was caught out first by yellow flags for the Massa/Ericsson incident at Mirabeau and then by encountering Adrian Sutil at Tabac when on a lap that would probably have got him through. This was with a gearshift problem that was costing lap time too. Replacement of the gearbox ensured he started from a penalised position at the back. He then made his race task more difficult by lining up in the wrong grid slot. He remained at the back - but on the wrong side. The confusion had been caused by the earlier removal from the grid of Pastor Maldonado's Lotus. The wrong-slot carried a five-second penalty which under this year's rules can be taken at a pit stop, before the car is worked on.
Chilton was brought in for his stop on lap 24 and the plan was for Bianchi to come in the lap after. Then Sutil's crash brought out the safety car, making things especially awkward for Marussia. "The rules say you cannot take the five-second penalty under the safety car and they also say that if you do not take it at the next pit stop you're excluded," explained Lowdon. "But we weren't going to do another stop - and the stop we were making had been planned for that lap anyway, regardless of the safety car. So we decided we would take the penalty regardless. We were then penalised 5s for taking the original penalty under the safety car. So we effectively had the penalty twice." That was the difference between Bianchi's eighth over the line and the official classification of ninth.
"It was a great drive by Jules. As well as his pass on Kamui, who is a world class driver, he pulled away from him and kept up a really strong pace. There was a lot of tyre management going on too and it required a really intelligent drive - and that's what he produced for us. We couldn't have asked for more."
Chilton meanwhile, having made the unconventional choice of starting on the prime tyre, was one of the few on the option in the late stages when the fuel loads were at their lightest. It was this that contributed towards his seventh ranking in the fastest lap list. Again, less than it seemed on paper but illustrative of genuine progress.
The team is adamant there is more performance to come, that the ideas and concepts are proven and that they just need to be able to afford to make them. The occasional Q2 starting slot would significantly enhance the feasibility of repeating the Monaco result. It's a hugely popular little team, its following out of all proportion to its results. Let's hope it can stay around to prove Monaco was no fluke.
MH