Jenson Button braced for a tough week in Australia without his 'number one fan'
But Jenson confident McLaren will quickly return to winning ways
By Pete Gill
Last Updated: 13/03/14 11:45am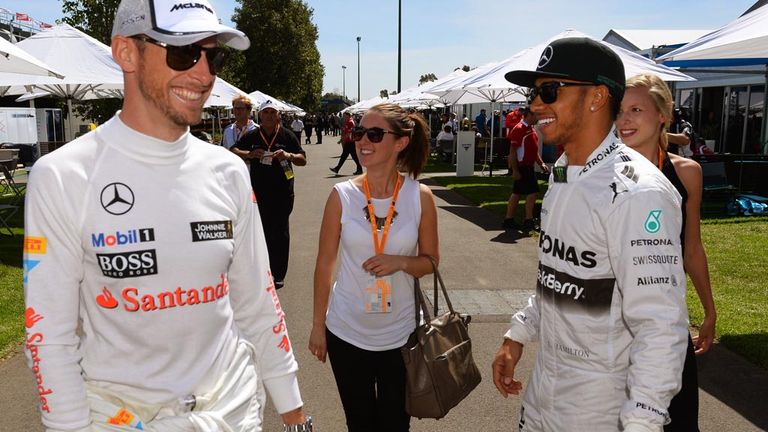 Button senior, who passed away in January after a sudden heart attack, was a near ever-present companion and confidant during his son's F1 career as Button junior evolved from fresh-faced novice at Williams to World Champion at Brawn and then elder statesman of the grid at McLaren.
"He was my number one fan," said Jenson in Melbourne, the traditional curtain-raiser for a new F1 season and a venue which holds particularly poignant memories for a driver who is poised to make the 248th grand prix start of his career on Sunday.
"This is a place where I always remember my dad: Melbourne, the first race of the season, the excitement on his face, my dad hated winter, and this was a place he always opened up at," Button told Sky Sports News.
"When I'm in the car, it's just me and the car. That will be the easiest place to be, but it's just before getting in the car that will be the most difficult because he was always there with a hug whether I liked it or not..."
And like it or not, in the unsentimental business of F1, Button, partnered by rookie Kevin Magnussen, will still be expected to lead McLaren's return to respectability in 2014 after the team plunged to a season devoid of a solitary podium finish last year - an annus horribilis that triggered the return of Ron Dennis and the ongoing 'where's Martin?' mystery after Team Principal Whitmarsh was relieved of his responsibilities.
To the relief of Woking, the MP4-29 performed well during pre-season testing, although that early encouragement was tempered by the team running their new charger in its launch configuration on the final day in Bahrain. Friday's practice sessions are thus likely to serve as two unofficial test sessions for the team, with Button admitting "we are one of the only teams to arrive here without the update kit on the car so practice will be interesting".
Yet the car's foundations look solid - something that could never be, and never was, said of the MP4-28 after its track debut 13 months ago.
"This car feels good," confirmed Button. "But we do need to build on it because we aren't quick enough right now. It's going to be all about the updates this year. We have a good starting position but there's a lot more we need to do challenge for first position."
But with Dennis back in control at McLaren after taking a hands-off role for five years, Button has no doubts that the team will soon return to the winners' enclosure.
"People are on their toes, but I think people like that, and he does put people on their toes! There's a good vibe about the place," said Button. "I don't know how we will do here, but I do know this team will be back winning again in the near future."