Lewis Hamilton says he wouldn't like to keep dominating races like Sebastian Vettel
"I don't want to be able to be that far ahead," claims Lewis
Last Updated: 24/09/13 11:52am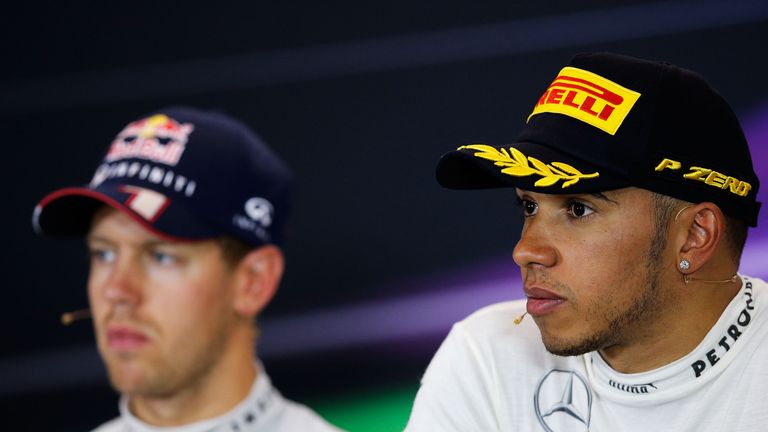 Having ended the European season by claiming comfortable consecutive wins at Spa and Monza, Vettel was once again in league of his own in Singapore and capped his stellar weekend by winning the race by a massive 32-second margin - the largest by any victor since Hamilton's wet-weather triumph at Silverstone five years ago.
Despite starting just 114 grands prix, Vettel's 33rd career win gave him sole possession of fourth place in F1's all-time victory list, while only Michael Schumacher, Ayrton Senna and Alain Prost have led more laps than him.
But while Hamilton is adamant his rival doesn't deserve to be booed for his current domination of F1, the Briton has suggested that he personally wouldn't deride much satisfaction from winning with such ease on a regular basis.
"I saw a glimpse of him on the podium and I was happy for him," Hamilton told reporters on Sunday night.
"I tried to imagine what it would be like if I was winning races the way he is winning races. Me, I don't want to be able to be that far ahead, I want to be able to fight with him or whoever. But this is the way it is, and it's definitely not a positive thing to hear that he has been booed.
"He's on his way to his fourth World Championship and he needs all the credit if he wins it."
Hamilton finished nearly a minute behind the runaway Red Bull at the end of Sunday's 61-lap race and admitted afterwards that any hopes he still harboured of catching Vettel in the championship had "totally gone out the window".
The 2008 World Champion admits he has become used to the German's stranglehold on the top step on the podium but expressed some hope that Mercedes will still have opportunities to challenge him at the front over the final six races.
"It's not depressing because it's nothing new. I look at his on-board laps and it doesn't look or appear as if he is on the limit like some other drivers are," Hamilton suggested.
"When you have that much in hand sometimes it makes it so much easier. But at the end of the day, he does the job that he needs to do and they've made a step somewhere because their car was rapid this weekend. But I still feel we can fight at some points through the rest of the season."
Click here to read the full post-Singapore GP Q&A with Lewis Hamilton.