Is Kevin Magnussen part of the answer to Renault's 2017 dilemma?
Sky F1's Mark Hughes assesses Renault's driver plans for 2017 and the importance of making the right impression at the right time...
Last Updated: 22/09/16 12:26pm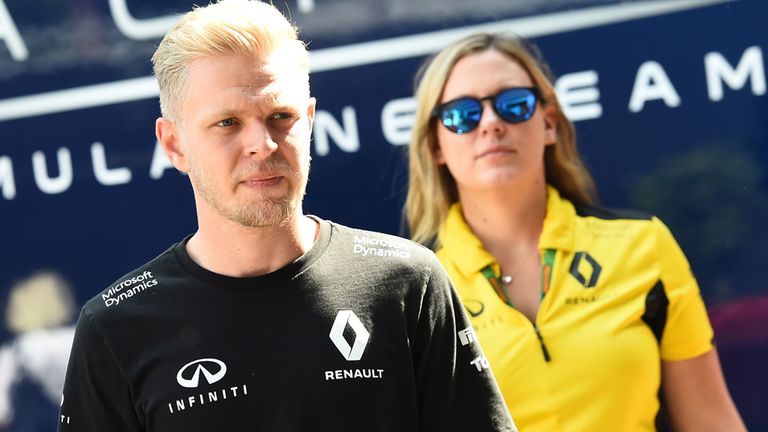 Renault continues to hold off on firming up its 2017 driver line-up, a situation that emphasises just how much driver reputations are dependent upon perception at any given freeze-frame moment.
Current driver Kevin Magnussen must be wondering what he has done wrong as the team has held off on extending his contract while trying to sign in succession, Stoffel Vandoorne, Valtteri Bottas, Sergio Perez and now Carlos Sainz.
Any of the latter three could yet end up at the Enstone team next year if suitable financial agreements could be reached, but it's looking increasingly unlikely. With Esteban Ocon tipped for one of the seats, it's looking like the other will fall by default to Magnussen - though with team-mate Jolyon Palmer still a possibility too.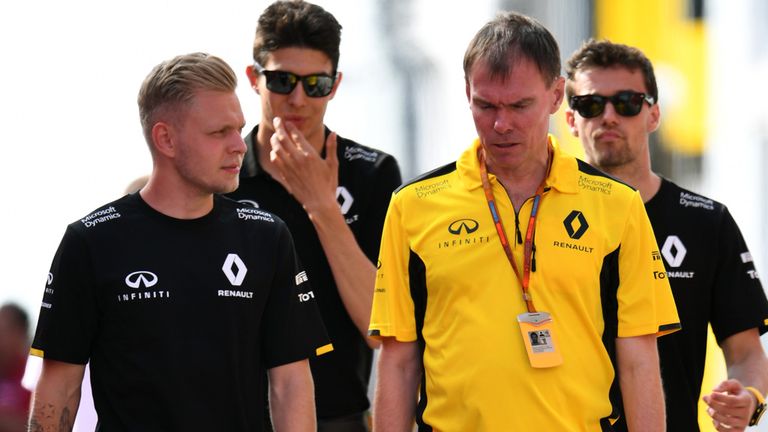 Magnussen's stock is simply not very high after a year in an uncompetitive Renault against an unknown quantity of a rookie team-mate. By contrast, Perez's regular Force India podiums and his out-scoring of team-mate Nico Hulkenberg has put his reputation at an all-time high. Yet it was only three years ago that the boot was on the other foot as McLaren dropped Perez in favour of Magnussen and felt it had gained significant performance in doing so.
It's all about fashions, perceptions and the fact that driver performances do vary according to the particular demands of a season - the car, the tyres, whether the car's general traits work well with the driver's natural driving style, how one driver can develop and another stagnate, how the in-team politics work and who gets first call on the best people, how the personalities of driver and team mix etc.
Team boss Frederic Vasseur has worked in the junior categories with both Vandoorne and Bottas and is a big believer in both. Perez is an attractive combination of backing and proven ability while Sainz continues to impress strongly in the Toro Rosso. By contrast, comments a couple of races ago from Vasseur suggest they are unconvinced about Magnussen's ability to lead a team.
Such perceptions are very difficult for a driver to address, especially in an uncompetitive car. There is also a danger of such criticism becoming self-fulfilling if it demotivates the driver. Magnussen can only try to ignore the uncertainty and focus on delivering his own maximum - something that Singapore suggested he is doing, as he delivered the team a valuable 10th-place point after a strong drive that built upon the foundation of an excellent opening lap. Some of his recent qualifying performances have had the air of frustration about them, trying to get more from the car than it had to give and there will almost certainly be a link between that and the lack of security and support he is feeling.
His recent run of being out-qualified by rookie Palmer has likely also contributed to the ambivalence towards Magnussen. Since enjoying something of a breakthrough in his feeling of the car in Hungary, Palmer has been much improved. But it's close to impossible for a team to judge what the level of driver performance is relative to everyone else - and by extension difficult to judge what demerit should be attached to Magnussen occasionally being slower.
Then there's Ocon, doubtless a driver of immense promise. But at Singapore he qualified the difficult Manor half-a-second slower than team-mate Pascal Wehrlein. It could be enough to turn perception against him at a crucial time - but hopefully won't.
Driver performance is an immensely complex equation even without the muddied waters of differences in car performance. For any team able to understand the black art of extracting a driver's maximum potential consistently, there's gold dust to be had.