Ewen Murray reflects on 25 years of golf coverage on Sky Sports
Last Updated: 02/01/16 2:57pm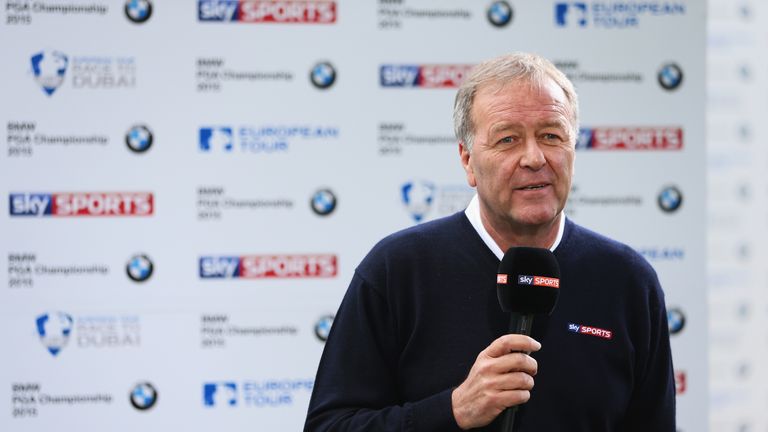 Ewen Murray looks back on the numerous memorable moments as he celebrates 25 years of golf coverage on Sky Sports.
Where the past 25 years have gone, I have no idea. It's seems only a few years since Sky Sports broadcasted their first golf tournament. They were tremendously exciting times, a new channel, young presenters and commentators off on a new venture that would change the world of televised sport.
In these early days, we had five tournaments on the European Tour and little else. Along came the odd major followed by the PGA Tour golf.
I had finished my tournament career at the early age of 35. Troubled by putting problems I shamefully admit I was unable to overcome, I was at the crossroads of my working life. After completing my first commentary in Dubai, Sky bought a highlight package and it was aired on Eurosport, which was the sports channel before the birth of Sky Sports.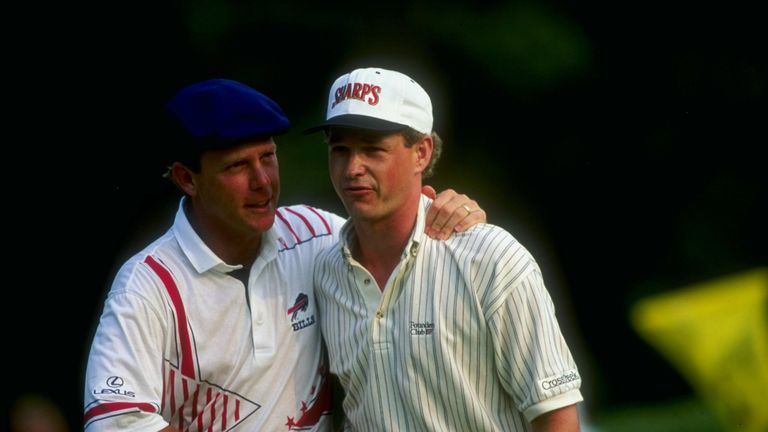 I was then asked to go to Spain to cover the Mediterranean Open at Las Brisas. Months later, Sky Sports began its journey. Our first major was the 1993 US Open from the studio. I knew so little of how television worked and I was paired with a journalist and touch line football reporter from Glasgow. Golf was not his sport, but very quickly, it became exactly that and today, David Livingstone is one of golf's most respected figures.
The US Open, at Oakmont in Pennsylvania the following year was our first on site production. It was blisteringly hot when Ernie Els won the first of two US Opens, Monty and Loren Roberts losing out in a Monday play-off.
Bruce Critchley had then joined the team and he was to be a wonderful travelling companion for over 20 years. During that year, my boss, Australian, David Hill thought it would be a good idea to have an instructional program and GYHD, (get your handicap down) hit the airwaves and would run for over seventy episodes.
The producer was a chap called John Killeen, a man with great humour, a mind as sharp as a tack and a man who became my mentor and close friend. His understanding and knowledge helped me enormously in making the transition from fairways to commentary box.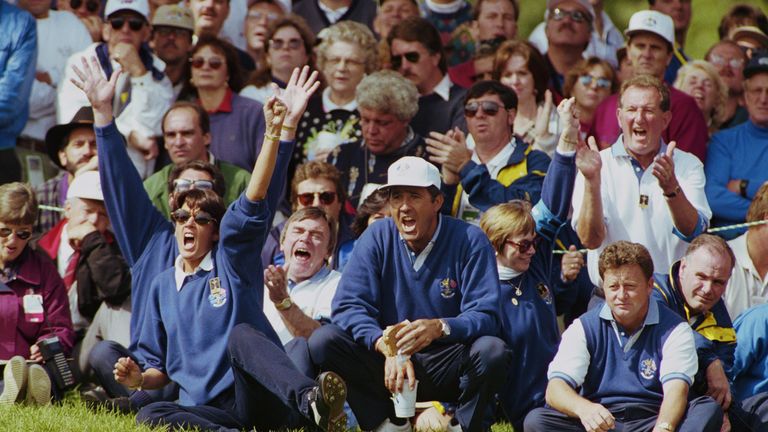 It was in 1995, Sky Sports really got a foothold in golf. The Ryder Cup was on our screens for the first time. In the years before, viewers saw only what the broadcaster was scheduled to show. At Oak Hill golf club in Rochester NYS, we witnessed Ryder Cup coverage never seen before. Every shot from start to finish.
On the Saturday afternoon, the host broadcaster, NBC, went to a college football match. Sky asked them if they could cover the golf for that duration so we could air continuous golf. Our brilliant young team put on a show that was humbling and the drama of that afternoon will live long in the memory.
The day ended with Corey Pavin chipping in at the last to give the USA a two point lead. Europe had never won from that position and captain Bernard Gallacher was facing his third defeat.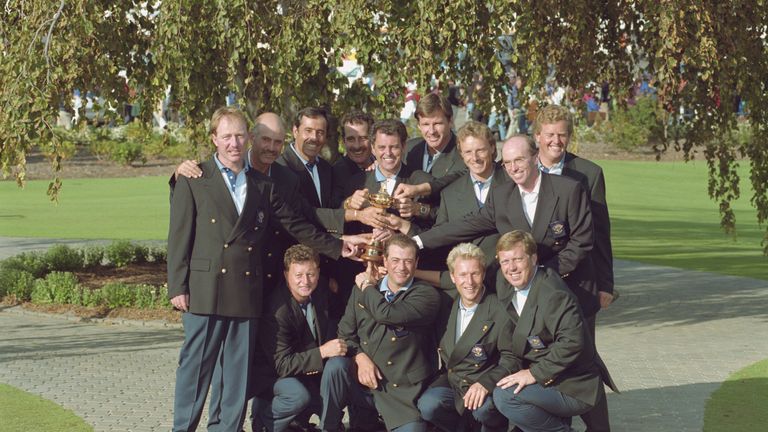 Sunday dawned and many of the players I had played alongside and who were my close friends, performed heroics. Seve led the way hitting one green in regulation yet turned all square with Tom Lehman. Howard Clark had a hole-in-one and he, Mark James and Sam Torrance used all of their experience to secure victories.
Nick Faldo got up and down from 94 yards at the last to keep victory hopes alive. He and Seve had never seen eye to eye, but the sight of them in tears with their arms around each other tugged at the emotions. When Philip Walton secured the Cup, I remember saying; "It's third time lucky for Bernard Gallacher. The Ryder Cup will be on Concorde tonight, it's on its way back to Europe."
That day was unforgettable. I turned round to see several people in the studio, I hadn't heard them come in. All were in tears bar one. David Livingstone had to pick up from my closing words. We all knew that Sky had come of age that afternoon.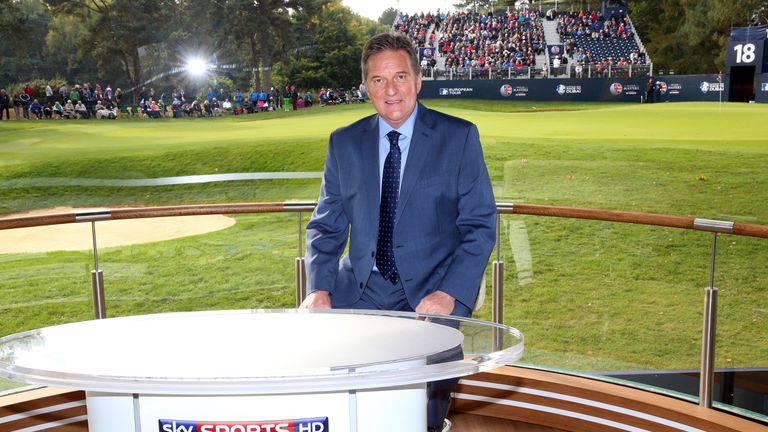 That was the week the irrepressible Butch Harmon joined the team. As he and David closed the the program to the music of "Dances with Wolves", our director Mike Allen, who is still our director today, rolled the credits. "Animate, lose it, animate, lose it." It was pure theatre, a brilliant production and, of course, the start of the amazing story of Sky Sports Golf.
Sky very quickly became the home of the European Tour with all of its events broadcasted live from all over the globe. Unlike America, we could produce our own coverage with the birth of European Tour Productions.
There is only one host broadcaster and whoever that maybe, the play by play is their product. In America we are in the hands of NBC, CBS and the Golf Channel and of course their television coverage is so different with their numerous commercial breaks.
Over the years, our relationship with these channels has flourished as it has done with the USGA, who present the US Open, and the USPGA, who deliver their Championship. So much so that long contracts are in place and they will be presented on Sky for the foreseeable future.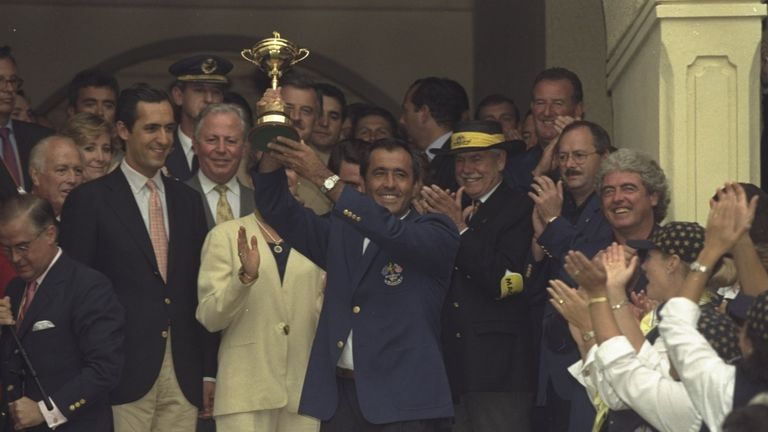 The Ryder Cup is of course the jewel in team golf's crown. There are so many amazing memories from the bi-annual event. Spain was awarded the 1997 match and the script was a perfect one. Seve captained Europe to victory at Valderrama and two years later, we saw that outstanding American comeback at Brookline under the guidance of Ben Crenshaw.
The atrocity in New York after the turn of the century moved the match to the even years and after he holed the winning putt in 1985, it was Sam Torrance's day again at The Belfry as our now analyst at Sky, Paul McGinley, rolled in the winning putt to give his captain victory.
Our great major champions of the 80s and 90s were now embracing the captain's role and Bernhard Langer and Ian Woosnam delivered Samuel Ryder's golden trophy in '04 and '06 before the USA won at Valhalla in 2008.
Monty wrestled it back during a damp week in Wales and then another "Oak Hill style" three days arrived at the Medinah Country Club in 2012. By then, we had lost Severiano Ballesteros Sota to cancer, but his fellow countryman made sure his sporting genius and memory lived on.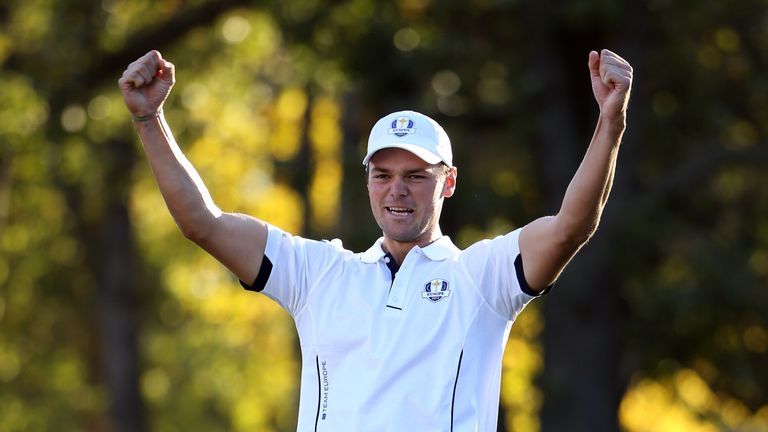 Seve, was Jose Maria Olazabal's idol and with the great man's image imprinted of his team's golf bags and clothes, Sky presented arguably the greatest Ryder Cup since it began in 1927 in Boston, Massachusetts. Some sporting moments never leave you. You remember where you were and what you were doing when these moments occurred. Again, like 1995, it came alive on the Saturday afternoon.
Ian Poulter and Rory McIlroy, struggling against Jason Dufner and Zach Johnson. A loss for Europe in this match would mean a six-point deficit going into the Sunday singles. When McIlroy birdied the 13th, there was only a glimmer of hope. By the time the magnificent Poulter had birdied the last five holes to win one up, hope became stronger, but nothing more than that.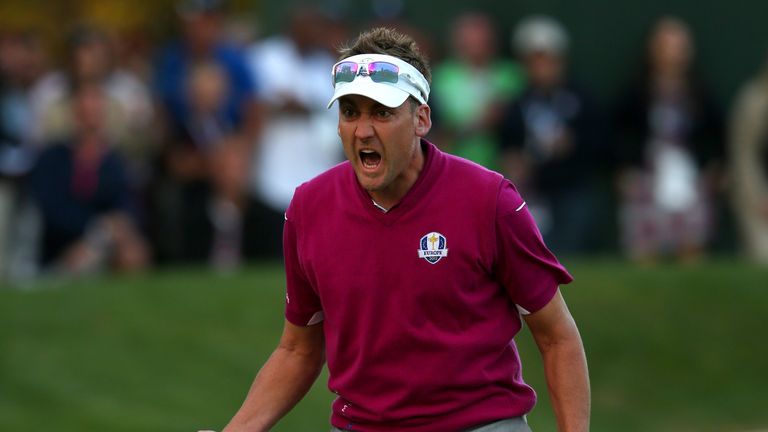 I'm not sure what it was, but when Sunday came, you could sense something out of the ordinary was going to happen. Instead of being on Central time, Rory's watch was on Eastern time. With the help of a state trooper and his police car, McIlroy made it to the first tee with moments to spare, and a few hours later, Europe had reeled off the first five singles.
The spirit of Seve seemed to carry a wave of belief throughout the team and when Germany's Martin Kaymer completed the comeback of all comebacks, the miracle of Medinah was etched in Ryder Cup folklore. When the victory sunk in, Olazabal looked to the Chicago Sky and voiced a prayer of thanks through tears and smiles.Rather fitting, as these emotions were Ballesteros to a tee.
The majors of course have their magical moments and the 1997 USPGA at Winged Foot enjoyed one of those heavenly finishes. As Davis Love sunk his final putt to win, a rainbow appeared on cue in the leaden skies.
Other special PGAs saw Padraig Harrington win followed by victory for Martin Kaymer and two from Rory McIlroy.
The 2005 US Open had that "Tin Cup" moment. New Zealander Michael Campbell had just scraped through qualifying at Walton Heath, and days later he held off the best talent in the game to win at Pinehurst.
Graeme McDowell won at Pebble Beach five years later and four of the last six champions have come from our home tour. Kaymer, McIlroy and Justin Rose.
Sky have yet to begin its first Open Championship, but began its Masters chapters in 2011 when Charl Schwartzel reeled off four closing birdies to take the Green Jacket and Australia had its first Masters winner when Adam Scott defeated Angel Cabrera in sudden death on a rainy night in Georgia.
During the middle of our 25 years, along came someone that was to change the face of our sport forever. Tiger Woods took the game to a new level. This smiling, handsome and well-mannered young man captured the imagination of, not just golf, but the sporting world. There are so many treasured moments to recall and of course impossible to recall them all.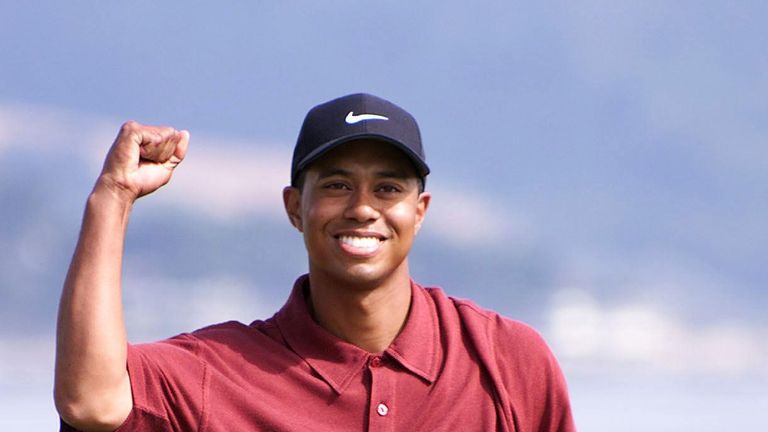 His play around the millennium was truly amazing winning majors by several shots, playing St Andrews for four days without going in a bunker, winning at Pebble Beach by 15 shots, the list of honours is endless. The moment we shall all remember was "that" pitch from the back of Augusta's 16th green. The inordinate amount of time that passed as it trickled down the slope only to pause, revealing the Nike swoosh, before disappearing into darkness.
The famous red shirt on during a final round, the shouts and punching of the air on producing another historical moment. Moments that are reserved for only the chosen few. I never thought I would see the game played so powerfully, yet so gracefully. At Sky, we witnessed all of his skills, his glorious shots and his outstanding triumphs. Tiger Woods was phenomenal. The most gifted individual ever to hold a golf club.
However, the record of 18 major wins is still in the hands of Jack Nicklaus and I suspect that will be the case 25 years from now. Jack's annual visit to the Sky commentary booth at Augusta is always looked forward to. When I asked him about Bubba Watson's pink driver there was one of these awkward silences. "Pink?" said Jack, I wouldn't know, I'm colour blind!"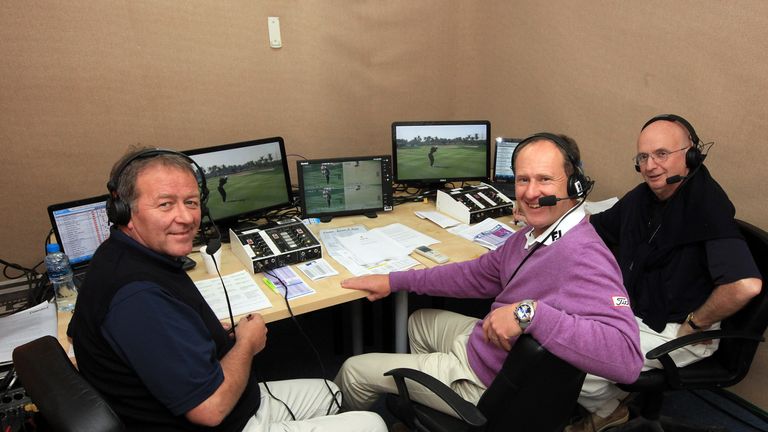 When Ian Poulter found the left greenside bunker at Augusta's third hole, Jack said: "I never knew there was a bunker there!" He never knew because he always played to the right and let the slope do the work for him. Just one of the many reasons he has six Masters wins. I look forward to next April when he slings the Green Jacket over the chair and says: "How you doing?" A remarkable golfer, but more than that, a person of the very highest calibre.
When I look back over the last quarter of a century spent at my second home of Sky, I realise how fortunate I have been working alongside some great young talents and masters of their trade. The executive producer, Jason Wessley, took his position over a decade ago. Jason is steeped in golfing tradition and is one if the game's top historians. His introduction came at the right time as Sky were building their own library.
His team have worked alongside him during that time, youngsters have been introduced and they have embraced the ethics of our golf division. Some of the things they create at Sky can leave you feeling quite inadequate. Their talents never fail to amaze me.
Speaking into a microphone while watching a screen and talking to a red light on a camera could never be classed as a natural way of life and I thank all the colleagues who helped me along the way. They know who they are. It's a great honour and privilege to be allowed to grow with the channel, a channel that is now television's Home of Golf.
And so to the Open Championship at Royal Troon in 2016, when our next quarter of a century begins. Happy Christmas and a healthy and prosperous New Year.