Motor Sport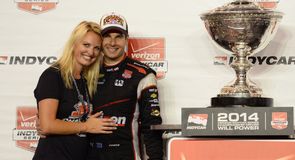 Despite finishing ninth in the final race of the season, Will Power clinched the first IndyCar Series title of his career
Latest Indycar Headlines

Scott Dixon claimed victory in the Grand Prix of Sonoma as Will Power extended his lead in the IndyCar title race.

Scott Dixon discusses his future plans and the growth of the IndyCar Series in the United States.

Australian Will Power is closing in on his first IndyCar series title after victory in the Milwaukee Mile.

Scott Dixon went fought through the field from last on the grid to clinch victory in the Honda Indy 200 at Mid-Ohio.
More headlines
Features

It's July 4, which can only mean one thing: United States' Independence Day!

Read the thoughts and opinions of Keith Huewen with skysports.com