Motor Sport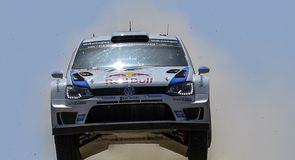 Sebastien Ogier extends his championship lead after winning the Rally of Italy for the second year in a row.
Latest Rallying Headlines

Sebastien Ogier took a comfortable lead in the Rally Italia Sardegna after an accident cost Jari-Matti Latvala.

Championship contender Jari-Matti Latvala leads the way after the opening day of the Rally Italia Sardegna.

Three spectators have been killed and six others injured in two separate accidents during a road rally in Scotland.

Jari-Matti Latvala beat team-mate Sebastien Ogier to take victory at Rally Argentina.

Jari-Matti Latvala extended his lead over Volkswagen team-mate Sebastien Ogier on the second day of Rally Argentina.

Jari-Matti Latvala claimed the lead at the end of a topsy-turvy opening day of the Rally Argentina.
More headlines
Upcoming Fixtures
Time
Fixture
1st August 2014
Neste Oil Rally Finland
22nd August 2014
ADAC Rally Deutschland
12th September 2014
Rally Australia
3rd October 2014
Rallye de France
24th October 2014
RACC Rally de Espana
14th November 2014
Wales Rally GB
Features

Break open another case of Bud and rev those engines 'til they smoke. We've got ourselves a sport again!
Experts & Blogs

Read the thoughts and opinions of Keith Huewen with skysports.com