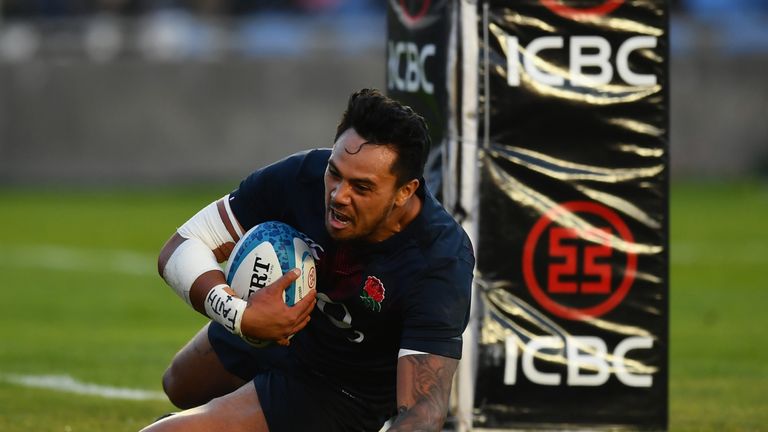 Castleford have agreed a compensation fee in excess of £200,000 with Sale Sharks over the signing of winger Denny Solomona, the Tigers have announced.
Castleford will also receive approximately £100,000 in legal costs after Solomona, who made his England rugby union debut in last weekend's first Test win over Argentina, left Castleford to change codes with Sale last November, against the wishes of the Tigers.
The 23-year-old winger had been under contract at Castleford until the end of the 2018 Super League season.
Solomona scored a record 40 tries for the Tigers in 2016, but failed to return from pre-season training camp last winter.
Sale subsequently announced he had retired from rugby league before signing him on a three-year deal in December.
The Tigers were seeking £500,000 in damages against Solomona, as well as Sale and the player's agent Andy Clarke, after the parties failed to reach an out-of-court settlement earlier this year.
Castleford had previously turned down an approach for Solomona from Warrington in August.
Tigers chief executive Steve Gill said: "This has been a difficult few months for the club. It would have been very easy to walk away and put all of this down to experience but Castleford Tigers is not a selling club any more.
"The approach from Sale was not welcome. We made our position clear but we have no control over the fact that Solomona was going to walk out on his contract.
"We believe lessons have now been learnt and we hope if this was to happen again rugby union clubs would respect the fact that the league players who are under contract cannot be enticed away without fear of financial penalties."
Castleford say they are disappointed not to receive an apology from Sale but are now ready to move on and will use the £200,000 to complete the signing of full-back Zak Hardaker from Leeds.
Greg Eden, the player signed to replace Solomona, is already well on the way to breaking his predecessor's 40 tries in a Super League season record with 30 in 16 appearances so far this year.