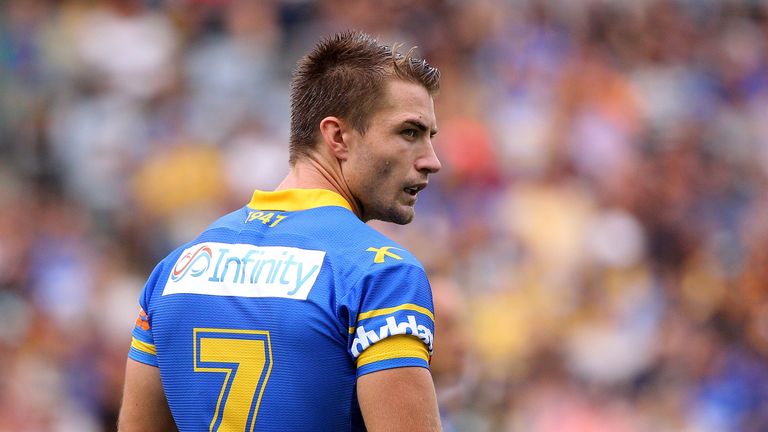 Troubled star Kieran Foran has signed a one-year deal with the New Zealand Warriors, ending a self-imposed exile from the game.
The talented stand-off walked away from Parramatta Eels earlier this year, less than 12 months into a lucrative £2.8m contract.
The 26-year-old later revealed he had attempted suicide and was suffering depression exacerbated by a relationship break-up.
Warriors managing director Jim Doyle said Foran, capped 20 times for New Zealand, had agreed to a one-year deal covering the 2017 NRL season.
"I've been in touch with Kieran regularly this year to offer support as he has dealt with the well-documented challenges he has been facing," said Doyle.
"We have worked through the option of coming to Auckland carefully with him. There has been much to consider in creating an environment for Kieran to not only return to football but also to put all the support around him that he needs.
"I'm delighted that following those discussions, Kieran has now decided to join the Vodafone Warriors. The next step is to work alongside the NRL to cover off all requirements to have the contract registered."
I have so many people to thank for making this happen and for supporting me through what's been a tough period.
Kieran Foran
Foran, who was born in Auckland but moved to Australia as a youngster, said he had been through a "tough period" and needed time away from the game.
"I've had a lot of time to think about my future over the last few months," he said.
"Initially footy was the furthest thing from my mind and I needed time away from the game. More recently the desire to play again has completely returned and I'm very keen to make a big contribution next year.
"While I had other options, coming to Auckland emerged as the best decision for me. Being in a new environment was important but I'm also incredibly excited by the potential of the club and the quality roster it has.
"I can't wait to be part of the team and I want to play a major role in 2017 in taking the club to the next level.
"I have so many people to thank for making this happen and for supporting me through what's been a tough period.
"Now I want to repay them. The Vodafone Warriors have so much to offer and I'm looking forward to working with so many players I know from the Kiwis as well as Mooks (Stephen Kearney)."
Watch Man Utd v Leicester, the Ryder Cup and Super League Grand Final as part of our three months' half-price offer.