2014 has not been the easiest of years for Elise Christie but, after Winter Olympic disappointment, taking on an entirely new challenge has left her feeling invigorated.
The Sky Academy Sports Scholar took on the challenge of riding the first stage of this year's Tour de France, through the Yorkshire Dales, and after some initial uncertainty about the endeavour, she now believes the experience has done her the world of good.
I thought I would just hit a wall and not be able to finish so I'm glad that I did it
However, having been controversially disqualified three times in Sochi earlier in the year, Christie was understandably down and so the thought of taking on extra training after her off-season didn't hold much appeal to begin with.
"I was contacted through the Scholarship programme when I was on holiday and it was quite difficult for me to organise while I was away, I thought that it was all a bit much because I couldn't train while I was away and I didn't even have a bike," she recalled.
"But when I came home and had a Scholarship experience day, I went in to the studios and talked to them about what it was actually about in more detail and decided I was going to do it.
"When I first started I was worried that it was just going to make things worse, having to do a lot of extra training that my head couldn't cope with at the time.
"Instead, it just gave me a different focus to achieve things in and a bit of a light-hearted focus because I'm not planning to make an Olympics in this sport, it was just fun."
It wasn't just the added workload that made Christie doubt whether she should take part at first, her past cycling experiences hadn't exactly gone to plan either.
"I was quite sceptical about doing it because I'd only ridden in the past for maybe a year and been pretty bad at it and hadn't enjoyed it," said Christie.
"That was when I was younger and the only other thing I can remember is my mum throwing my bike in the river once when she was trying to teach me how to ride it!
"Obviously when I started though, about two weeks into it, I thought 'I actually like this.' I started to feel like I was improving and enjoy it and I do it all the time now."
The ride also gave the European 1000m champion the opportunity to get to know her mentor on the Scholarships programme, Will Greenwood, who also took to the saddle for the ride. Something Christie was grateful of.
"I got to spend some time with Will, my mentor, and get to know him on a personal level because when you're doing something like that you get to see what people are actually like rather than what you see on the TV or when you're sat in a meeting," she added.
"Everyone involved was really nice, they were all lovely people and you felt like part of a team so it was nice in that sense."
Indeed, even once the ride got underway, the short track star was able to enjoy it, although as time went on that feeling slowly started to evaporate.
"At the start we were all really enjoying but then you get to the about halfway and realise that you still have the two biggest hills to go and you just think 'wow, this is going to be a really long day!'
"I remember speaking to the camera with about 30 or 40 miles to go and saying 'I feel fine, I'm really enjoying myself' and I think it was about then that I left the group. We did a climb and the producers told me to keep going because we weren't going to stop again so I just carried on.
"We ended up ahead of everyone else and me and the motorbike that I was following got lost. So then when we went off route, that was the point where my head went and I was just thinking 'I don't know how people do this, this is horrendous.'
"If I'd been on route it would probably have been about 15 miles to go and it ended up being 20 miles. At that point I could go on the flat and the downhill but as soon as I got to an upwards slant, and it was literally just a tiny hill, it was horrendous."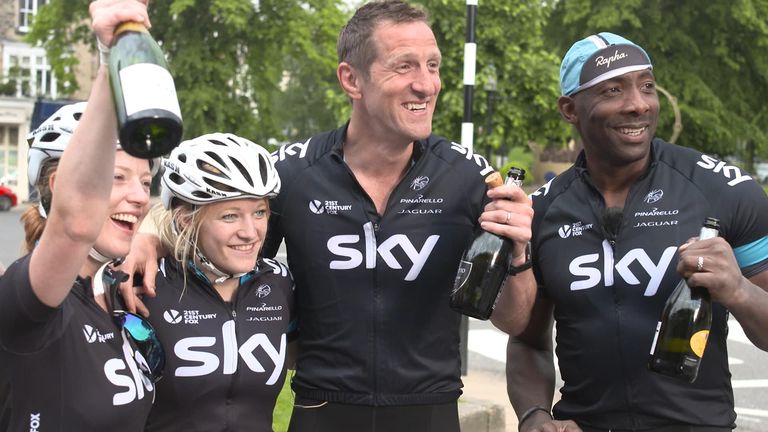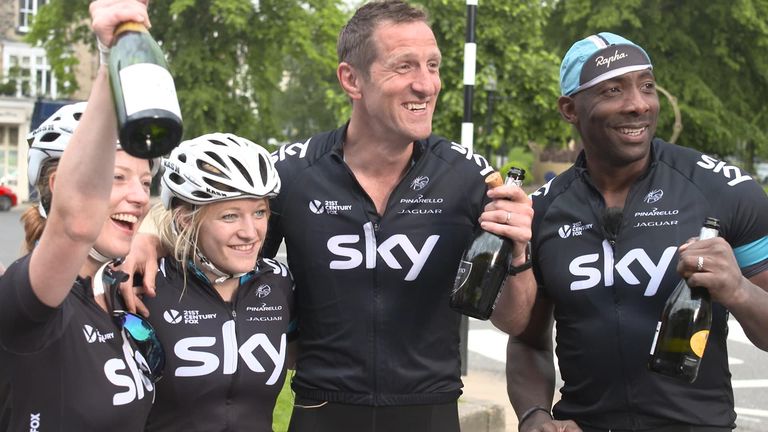 The ride certainly gave Christie a new found respect and admiration for the top cyclists who have to cover such distances day after day – a fact the 23-year-old from Livingston could barely comprehend.
"There was no way I could have got up and done it again. I don't know how they do it," she remarked.
"Thankfully, girls don't go that far in racing on bikes, I've found out since. But they must all be so fit; it's so hard to even walk the next day."
Tough as it was, there are no regrets for Christie and she has no doubts that it has helped her in a number of ways.
"I thought I would just hit a wall and not be able to finish so I'm glad that I did it, definitely," she said.
"I think it did help. It was a new experience; I didn't know anything about it. It did bring me away from the goals and disappointment in my sport a little bit and then when I came back into mine, I was ready to sit down and talk about my goals because I've had my time away from it to stop thinking about it so much."
You can watch the final part of Riding The Dales: The Yorkshire Tour Challenge on Thursday 3 July at 7:30pm on Sky Sports 3HD.