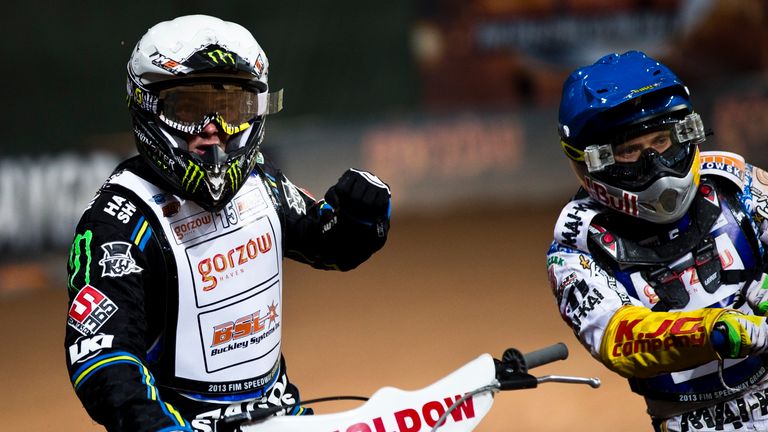 Poole Pirates' defence of their Elite League crown will begin this week without number one Darcy Ward after it was confirmed he had broken his thumb in the opening Grand Prix of the weekend in New Zealand.
Ward crashed out at Western Springs in Heat 14, when he was taken out by eventual winner Martin Smolinski.
After being taken to hospital, it was confirmed that Ward had broken his thumb and whilst doctors in Auckland recomended surgery, the 21-year-old was going to wait for a second opinion back in Europe.
Poole, though, have taken the initial decision to use the guest facility and have booked Belle Vue star Craig Cook for Wednesday when they line-up against South Coast rivals Eastbourne Eagles.
"We are waiting for more information as to the extent of Darcy's absence and so while we are without his services then we will be looking to cover with guest riders, which of course is never an ideal situation," said Poole chief Matt Ford.
"Our options have been limited this week as there are two other Elite League fixtures being held on Wednesday with Birmingham hosting Coventry and Lakeside visiting King's Lynn, but Craig has started the season well and has plenty of potential so I am hoping he will be able to fill the boots left by the loss of Darcy.

"Our task on Wednesday is tough enough as the Eastbourne side look strong and I really don't go along with the pundits who have put the Eagles as lower finishers in the league. 

"They have a solid outfit and I can see them giving us a tough ride when we open our league season this week.

"They have already opened their league account with convincing wins and that will breed confidence in them. From an opposite point of view, we have not really had the opportunity for too much racing ourselves."
Target
Ward himself insists that he wants to be ready to ride at the European Grand Prix in Bydgoszcz on April 26th. 
"I've broken my thumb – I've done one of the bones in the joint. I'll look to get to Torun as soon as possible and see the doctor there. My Polish club Unibax Torun are helping me out and that's great," said Ward.
"The doctors in New Zealand said I do need an operation. But I'll wait to get a second opinion in Torun and see what they say. I've got all the photos – the CT scans and X-rays. I'll send them to my specialist in Poland and see what his decision is.
"Obviously the goal is to try and get back for Bydgoszcz. I know it's only two weeks away, but as soon as I'm back in Europe, I'll see a specialist and do everything I can.
"If I score some good points in Bydgoszcz, I can regroup and still make the rest of the season the best I can. It's not over yet, but this is a setback to my bid to try and get the gold medal.
"I don't think I'll be ready before Bydgoszcz and I don't know I will be ready by then.
"If I'm half-ready, I'll come to practice and have a go. We'll have to wait until that day."