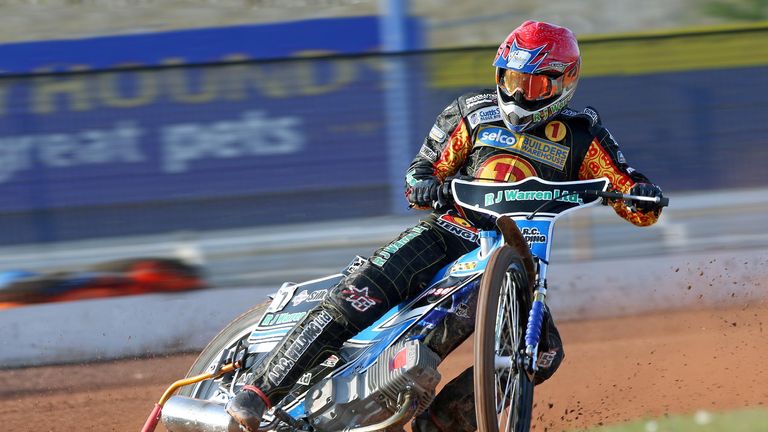 The Elite League meeting between Birmingham Brummies and Swindon Robins was abandoned after nine heats due to a heavy downpour at Perry Barr.
The Brummies were leading 31-23 at the time but, with just one more heat required for the result to stand, meeting steward Jim Lawrence ruled conditions had deteriorated too much to continue.
Lawrence said: "I thought we were going to be lucky. We got to heat seven and then had a (rain) break before managing to pull the track back enough to carry on.
"We did another two heats but the weather beat us in the end which is disappointing.
"The rain is heavy now and the track is ruined, we're not going to be able to salvage it like we did after heat seven, so it's a straightforward decision (to abandon)."
'Unfortunate'
Brummies skipper Danny King had won all three of his heats before the abandonment, while team-mate Daniel Nermark also had a perfect record from his wo rides.
King said: "I'm guitted for Birmingham. We fought so hard tonight against a strong team. Conditions were tricky but we tried our best and, to be one heat away, is so heartbreaking. The track is really bad now and it's just unfortunate we couldn't have got one more heat in."
The score was level at 12-12 after four heats but the Brummies pulled away from that point, helped by a 5-1 in heat five, which was won by Bartosz Zmarzlik for his first victory in the Elite League.
Rain prompted a stoppage after heat seven but eased sufficiently for the track to be prepared for two more heats.
But, with dark clouds closing in, it soon became apparent the meeting would not go the full distance and the decision to abandon was made after visibility problems hampered the riders in heat nine.
Swindon team manager Alun Rossiter said: "The right decision has been made. Nobody is at fault, yet again the weather has beaten us."
Rain had the final say in all of Monday's Elite League action; Wolverhampton Wolves' fixture against Leicester Lions was abandoned after one heat, while Belle Vue Aces versus Eastbourne Eagles was called off earlier in the day.