Robins on song
Swindon Robins closed the gap at the top of the Sky Sports Elite League with a convincing win against Eastbourne at the Abbey Stadium.
Last Updated: 27/07/12 10:47am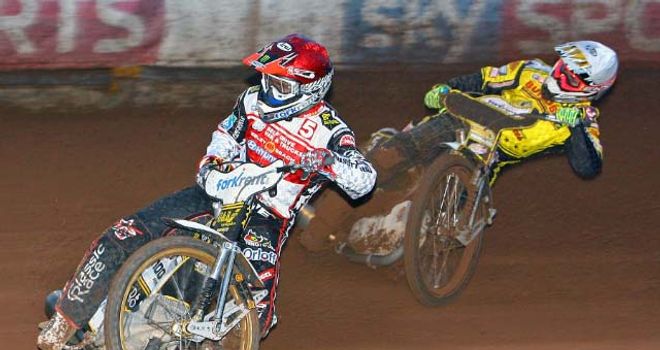 Swindon Robins closed the gap at the top of the Sky Sports Elite League with a convincing 53-38 win against Eastbourne at the Abbey Stadium.
The Robins moved back to four-points behind leaders Poole and had skipper Hans Andersen to thank who storming to a faultless 15-point maximum.
There was also some good backing from Troy Batchelor (10), Simon Stead (9), Jason Doyle (8+3) and David Lampart (8+1). Alun Rossiter's men were always in control right from the off with Andersen and Doyle opening proceedings with a 5-1 in Heat 1.
Batchelor and Lampart then stretched the home advantage to eight with a maximum in Heat 4, although Eagles duo Joonas Kylmakorpi and Lukas Dryml did reply with five of their own in race 6.
But the Andersen and Doyle pairing restored the eight-point lead in Heat 7 and they linked-up once again in Heat 10 to put the Robins eleven-points clear.
Kylmakorpi's tactical ride second place behind Batchelor in Heat 11 did pull a couple of points back courtesy of a 5-3, but the Wiltshire men fired in three successive 4-2s in the closing races which leaves them in a very healthy position in the race for the play-offs.
Brummies win
Ben Barker scored a sensational paid maximum to lead Selco Birmingham Brummies to a 54-41 victory over struggling Belle Vue at a sun-soaked Perry Barr.
Birmingham lost reserve Tomasz Piszcz to concussion and neck pains following an horrific Heat 2 spill, before Barker and Danny King combined for 5-1s in Heats 3 and 5 to help their side to an 11-point lead after eight races.
Belle Vue did hit back with Craig Cook and Rory Schlein winning tactical rides for double points in Heats 8 and 10 respectively - but a third maximum from the dynamic Barker-King duo in Heat 9 ensured that the Brummies remained in control.
Skipper King was only defeated in Heat 15 when he suffered bike problems, whilst No.1 Bjarne Pedersen recovered from his poor showing at Eastbourne to score a strong 13 points.
But it was Barker who stole the show, as he romped to a six-ride paid maximum to help Brummies overcome the absence of injured No.5 Sebastian Ulamek and bag their third consecutive home win.
Brummies boss Phil Morris said: "It was a very good win. Belle Vue have been struggling but there was still a job to be done, and we did well.
"It was good that the boys pulled through with only five riders. I think Ben Barker, Danny King and Bjarne Pedersen all stepped up and did a good job to pull us home."