Is Roger Federer The Bionic Man? The Swiss star continues to defy age and logic
Better than he was before: better, stronger, faster
By Raz Mirza
Last Updated: 22/03/17 7:35am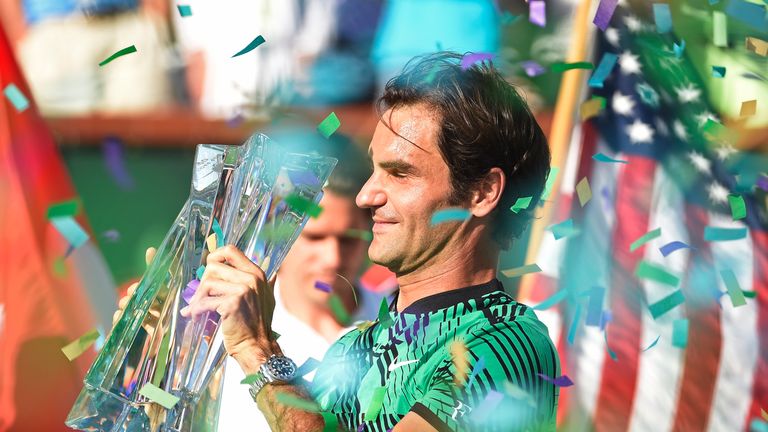 Gentlemen, we can rebuild him. We have the technology. We have the capability to make the world's first bionic man. Roger Federer will be that man.
So the great Swiss may have accrued slightly more than the Six Million Dollar Man during his illustrious trophy-laden career, but his Superhuman efforts over the past three months make him a true inspiration as he keeps making the impossible, possible.
Federer endured the annus horribilis of years when he twisted his knee while running a bath for one of his children, and resorted to surgery in March.
And things went from bad to worse when he fell heavily on his injured knee during his semi-final defeat to Milos Raonic at Wimbledon which meant the end of his 2016 - one to forget.
The time off allowed Federer to enjoy a longer off-season, giving his body and mind time to rest, relax and reset at a crucial stage in his career if he wanted to continue his legacy in the sport.
When he resumed training, Federer showed remarkable dedication to rebuild himself through practice sessions and by spending time with fitness guru Pierre Paganini - the man behind his longevity.
The former track and field athlete and football player who never played tennis at a high level has been a part of Team Federer since 2000.
In 2012, he told the New York Times: "He's so coordinated. He's not someone who consumes. He's someone who creates.
"Like watching the ballet dancer: You see the beauty but you forget the work behind it. You have to work very, very hard to be that beautiful a dancer."
Upon returning from the longest layoff of his career, the 35-year-old has defied age and logic by remaining as coordinated, versatile and balanced as ever.
Swedish coach Stefan Edberg moulded Federer's game, introducing the "SABR" [Sneak Attack by Roger] allowing him to play more aggressively at the net more frequently than in the past, winning 11 tournaments together, before his departure at the end of 2015.
Croatian former professional Ivan Ljubicic, working alongside long-time coach Severin Luthi, marked an important new era in Federer's career.
Former hitting partner Ljubicic was known for his serve and his powerful forehand, he started working to improve Federer's backhand using his familiarity, experience and by bringing in a new perspective.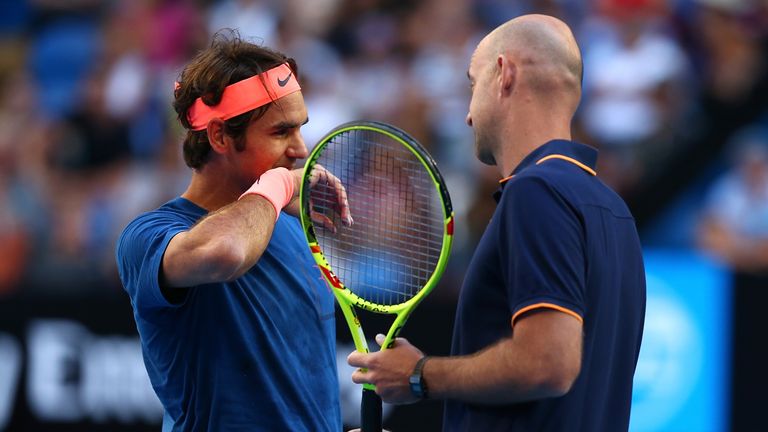 Although the former world No 1 was still a work in progress, Ljubicic started working into making his backhand a masterpiece.
"I think it's a bit of everything and at the end of the day it's also confidence," Federer told Sky Sports. "I've been coming over the backhand more than I ever have in previous years, especially off the return against right-handed and left-handed players.
"It gives me the belief that because I'm coming over the backhand so much that I can pull it off at the most important moments.
"Before the backhand was more of a set-up shot, a variation play, but now I feel it can also hurt players a lot on the offensive whereas before it was more keeping me in the point or on the passing shot where I was always pretty good."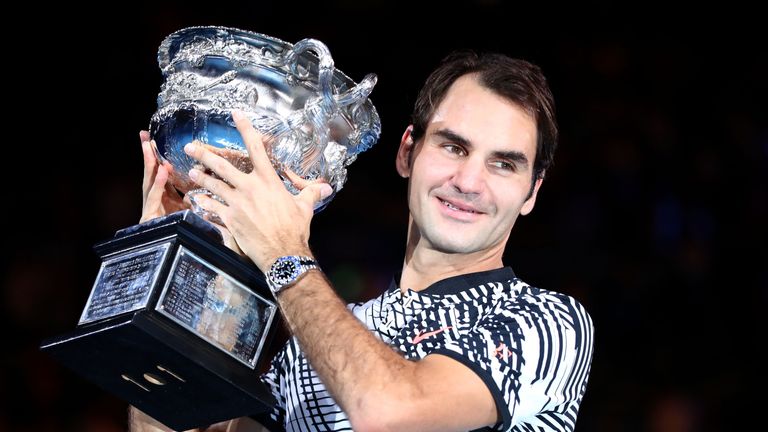 The Hopman Cup was the first tournament back for the new Federer before a fairytale Australian Open where he turned back the clock to win his 18th Grand Slam.
Despite a shock defeat to qualifier Evgeny Donskoy in Dubai, the Swiss maestro returned to his formidable best to claim his record-tying fifth Indian Wells title.
It was his 25th Masters 1000 crown and 90th overall title in his career and at 35, Federer became the oldest player to win an ATP Masters 1000 title.
Tennis analyst Annabel Croft has her own theory behind the secret of his recent success, saying: "He previously used the backhand to nullify the serve. Now he's hitting over it so much more. Also, he's talked about the bigger racket head being a big factor in that.
"One of the rumours that hasn't been talked about is that Ljubicic sat down with Roger Federer at the start of their relationship and said 'there are two things that I really feel that I have got to say. One is that I believe you can beat Rafa Nadal over five sets, because mentally it feels to me that you don't feel you can beat him'. So that was a very important factor going into that Australian Open final, and of course he did end up coming through that in five sets.
"The other factor was when he said 'I've watched all the tapes of your matches, I've watched you play so much, but you miss your backhand a lot into the net. Why do you keep hitting your backhand into the net? There is so much space over the top of the net'. And I think that was one of the things that really helped him again in that Australian Open final. He made some crucial backhands at key moments in the match.
"After that, of course, it cements his position as coach because of those little, tiny, extra factors that he's been able to help Roger with and bring his expertise.
"They were also great friends, they played each other on the Tour, and I think there seems to be a huge amount of respect there, so it seems to be working really well.
"He's has a fair share of coaches, but this one seems to be working very well."
With Andy Murray and Novak Djokovic both missing the Miami Open through injury, Federer couldn't be in a better place right now. He's getting even better, which is a scary thought. Who would bet against the great man becoming world No 1 by the end of 2017? Anyone?
For those on the move, we will have the Miami Open Masters 1000 tournament covered on Sky Sports News HQ and via our website skysports.com/tennis, our app for mobile devices and iPad or our Twitter account @skysportstennis for news, reports, live blogs and expert analysis.
Sky Customers can now upgrade to Sky Sports and get 12 months for just £18 per month. Upgrade now!
Non-subscribers can grab a NOW TV Sky Sports Day Pass for just £6.99 or Sky Sports Week Pass for £10.99. No contract. You can enjoy access to all seven Sky Sports channels and watch on a TV with a NOW TV Box or on a range of devices.