Tennis Expert & Columnist
Andy Murray backed by Mark Petchey to recover form for French Open
Last Updated: 18/05/17 3:51pm
Mark Petchey is confident that world No 1 Andy Murray will overcome his current disappointing form to make a strong run at the French Open later this month.
Murray lost to Italy'sFabio Fognini at the Rome Masters to compound what has been an indifferent clay court season in recent weeks.
The Brit was defending his title but failed to progress past his first match of the tournament and now looks slightly short on match practice ahead of the second major at Roland Garros.
Despite recent defeats, Petchey is adamant that Murray will now be able to fully focus his attentions on Paris and the upcoming grass court tournaments including the Wimbledon which he will be defending.
"He has got the majors coming up now. He can just focus on that," Petchey told Sky Sports.
"The pressure is off to some degree. He has a great character trait in terms of trying to prove people wrong so I still feel as though he is going to make a very deep run in Paris."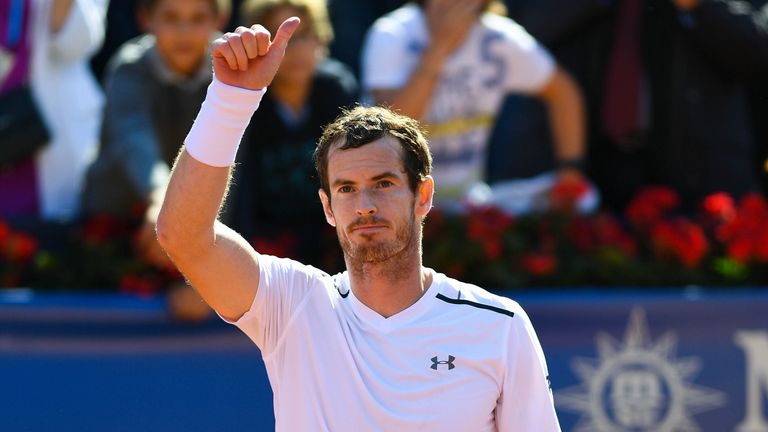 Murray's former coach admitted that one area of his performance which is letting him down is his first serve speed which contributed so much to his excellent second half to 2016 where he won Wimbledon and the World Tour finals in London.
"The one thing that is very much down is his first serve speed. He is down in the high 80s which last year was a big transformation - he was mid-90s.
"That extra time you have on the ball as a returner obviously makes a guy like Fognini that much more effective."
Another factor which appears to be proving detrimental to Murray is his accuracy with his serve which has struggled following the three-time major champion's return from an elbow injury.
"Also his accuracy on his first serve compared to when he played Djokovic last year in the final in Rome was substantially down against Fognini particularly the wide one on the deuce side and up the tee on the add side."
Petchey was certain in his belief that Maria Sharapova was harshly treated in not being awarded a French Open wildcard by the French Tennis Federation following her return from a 15-month doping ban.
"I know that I am in the minority," said Petchey. "I really feel as though she has served her ban. It's important to mention that she won all of her grand slam trophies legally.
"Basically it's a lottery depending on when you get banned. If you only get a three or four-month ban you can come back and play. If you get a longer ban then you come back at zero.
"This has been going on since 2013. Where's the consistency, where's the rules by the governing bodies that say if you get caught this is what the uniform approach should be in terms of wildcards and entries? I feel as if at the moment they are just making it up on the fly.
"I think the sport needs her tremendously. They're all games; golf, tennis, and football, but they become sports with the champions, their history and what they have achieved. That's all interwoven into why it becomes a sport.
I feel as if at the moment they are just making it up on the fly.
Mark Petchey on Maria Sharapova's French Open wildcard fate
"I don't believe Wimbledon will give her a wildcard. I don't think that's going to be coming her way. I am not sure that she's expecting it but basically what we're saying here is that the ban continues."
For those on the move, we will have all the action from Roland Garros covered via our website skysports.com/tennis, our app for mobile devices and iPad, or follow our Twitter account @skysportstennis for news, reports, live blogs and expert analysis, with updates on Sky Sports News HQ.
Sky customers can now upgrade to Sky Sports for the Premier League run-in and an unmissable summer of sport. Upgrade now!