Rafael Nadal not concerned with overhauling Roger Federer in Grand Slam titles
"Of course, if I will win two Grand Slams this year and he will not win, we'll be closer, but he has 19, I have 16. So three is a big difference"
By Pat McLoughlin
Last Updated: 14/09/17 9:47am
US Open champion Rafael Nadal says he is not overly concerned by the prospect of winning more Grand Slams than Roger Federer.
Nadal put the seal on a throwback year for men's tennis by cruising to his 16th Grand Slam title at the US Open on Sunday and move within three of Federer's record haul.
The 31-year-old's victory over first-time Slam finalist Kevin Anderson, winning 6-3 6-3 6-4, saw him again close to within a trio of major titles of Federer at the top of the all-time list.
How different that would look had the Spaniard, not the Swiss, edged their titanic battle in the 2017 Australian Open final 6-4 3-6 6-1 3-6 6-3.
Given Nadal is five years younger than Federer, the prospect of the former eventually overtaking the latter appears distinctly possible once more but the Spaniard is preferring to focus only on the present.
"I really never thought much about that," insisted Nadal. "I just do my way. He does his way. Let's see when we finish.
"Of course, if I will win two Grand Slams this year and he will not win, we'll be closer, but he has 19, I have 16. So three is a big difference.
"I'm very happy with all the things that are happening to me, winning this title again. I have this trophy with me.
"It's so important, winning on hard court again. That's a lot of positive energy for me. Being healthy, you see everything more possible. With injuries, everything seems impossible.
"It's true that I am 31, I am not 25, but I still have the passion and the love for the game. I still want to compete and still feel the nerves every time that I go on court. While those things keep happening, I will be here."
With Nadal also claiming his 10th French Open title earlier in the season and Federer winning in Melbourne and Wimbledon, it is the first time for seven years that the sport's two biggest superstars have swept its greatest prizes.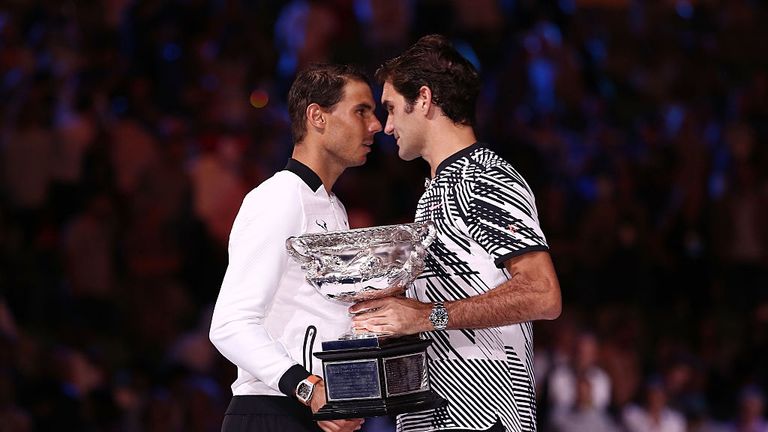 Nadal won the final three Slams of that 2010 season after Federer took Melbourne but once Federer lost to Juan Martin del Potro in the quarter-finals in New York this month, it was always likely the former would take home the US trophy prize.
The renewed dominance of Federer and Nadal would have been scarcely believable at the end of last season, when injuries put question marks over both of their futures.
"Of course I am surprised," said Nadal at how successful his 2017 campaign has been. "But I was surprised in January. Now I am not that much surprised.
"After the first two, three months of the season, you see that I am playing well, and if I am playing well on clay, I normally am going to have my chances."
Sky Sports Tennis will have all the action from the Laver Cup, China Open, Shanghai and Paris Masters before the season-ending extravaganza World Tour Finals at London's O2 in November covered via our website www.skysports.com/tennis with live blogs and updates as the season reaches its climax.
On the move? Head to our app for mobile devices and iPad, or follow our Twitter account @SkySportsTennis to join in the conversation. Who will win the World Tour Finals this year? Have your say...