Less than a year into Sport England's This Girl Can campaign, there are promising early figures to suggest the project is achieving its objective of getting more women active.
The £10m initiative was launched in January this year and was designed to help bridge the gender gap in participation by trying to make women feel more comfortable about exercising and playing sport.
And the latest figures from Sport England suggest that gap is decreasing, with women's participation increasing at a faster rate than men for the very first time.
Almost 150,000 women have started playing sport at least once a week, which represents more than 60 per cent of new participants.
"I think the This Girl Can campaign is clearly starting to have an impact but we have to remember that this is just the beginning," Women in Sport CEO Ruth Holdaway told Tuesday's SportsWomen show on Sky Sports News HQ.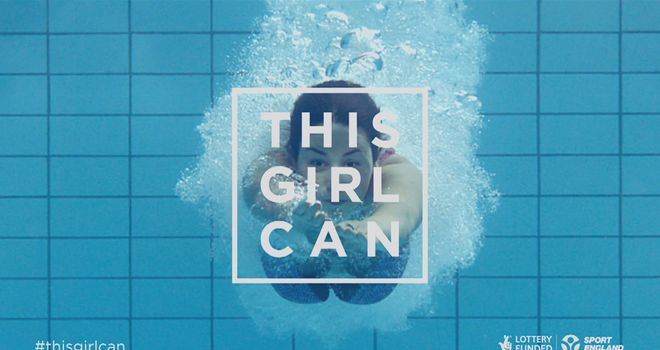 "We're talking about behavioural change, changing women's attitudes to sport, and there are many factors to that. So yes the campaign helps to inspire and show women that it is okay to play sport and be active, but the work that we do at Women in Sport and the work of national governing bodies all contributes to what we're now seeing, which is an increase in women starting to regularly play sport.
"I think governing bodies are really starting to grasp the issue now and we are really beginning to see that at Women in Sport.
"We are known for the research that we do but increasingly now we are being used to help governing bodies apply that research and [help them] really understand what it really is that they are offering women and girls right across the piece. So it is everything from marketing and social media, and the way they're trying to keep women going and keep women engaged, all the way through to the offer right on the field of play if you like.
"There is such momentum behind this now but we must not rest on laurels. The work is just starting and we must not get complacent about this. There is an awful lot to do to make sure that women continue to be motivated and supported to be physically active and play sport."