Paula Radcliffe left out of UK Athletics World Class Performance Programme
Paula Radcliffe is among a number of British athletes to have had their National Lottery funding removed.
Last Updated: 15/10/12 2:06pm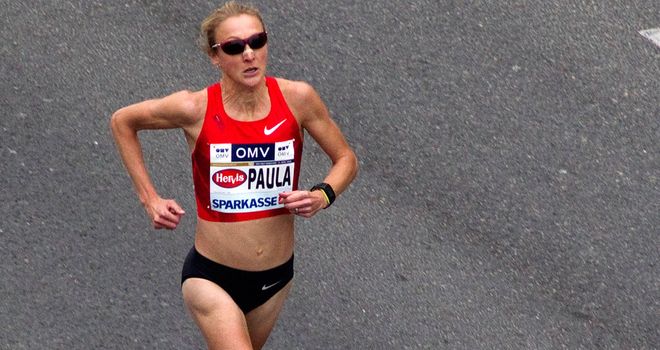 UK Athletics have released the names of athletes who will receive support from the World Class Performance Programme (WCPP) for 2013 and several Olympic and Paralympic stars will now receive top level funding.
But the 39-year-old Radcliffe, who missed the London Olympics due to injury and has only raced one marathon since 2009, is not on the list.
A statement on the UKA website read: "A significant number of athletes have exited the programme, as they are not deemed to be medal contenders in 2016 or because they have not met agreed performance targets for the previous year."
The decision came as no surprise to Radcliffe, who wrote on Twitter: "Just to clarify, I am very grateful for the support Lottery funding gives us athletes and fully expected to see it withdrawn.
"From the beginning, I have only ever received medical support, which is of course significant and vital. Since funding came in, I have seen big differences in the depth and strength of all our sports.
"Retirement is definitely not in any plans. I'm not doing all this training and getting this foot healthy and strong for nothing."
Other senior names to have had their funding taken away include Radcliffe's fellow marathon runner Mara Yamauchi, sprinters Marlon Devonish and Mark Lewis-Francis, European 400m hurdles champion Rhys Williams, former European 800m silver medallist Michael Rimmer and former world 400m silver medallist Nicola Sanders.
The categories of funding are split into two levels of support, podium and podium potential, with double Olympic gold medal winner Mo Farah and Paralympic star David Weir unsurprisingly retaining their top tier funding.
They will be joined at podium level by high jump bronze winner Robbie Grabarz, world junior 100m champion Adam Gemili, rising heptathlon star Katarina Johnson-Thompson, promising discus thrower Lawrence Okoye, sprint hurdler Lawrence Clarke and Paralympic T44 100m gold medal winner Jonnie Peacock.
A privilege and not a right
UKA performance director Neil Black said: "Being part of the World Class Performance Plan is a privilege and not a right and athletes selected will be expected to fulfil tough performance criteria.
"We have identified a very talented group of athletes for support over the coming year and I am confident that we can build on the success of the last Olympic and Paralympic cycle, starting with the European Indoors in Gothenburg in March.
"Accountability is at the heart of this programme and athletes who have not met performance criteria over the last year will not receive continued support. It is undoubtedly tough, but that is performance sport."