NBA: San Antonio Spurs make it 10 wins in a row by seeing off Washington Wizards
The San Antonio Spurs stretched their winning run to 10 games by claiming a 96-86 victory over the Washington Wizards.
Last Updated: 03/02/13 9:10am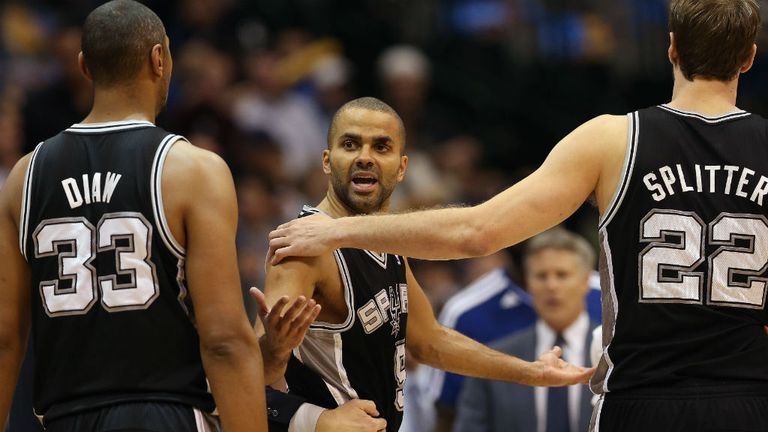 Tony Parker scored 19 points and dished out 12 assists, while Kawhi Leonard had a double-double of his own with 10 points and 11 rebounds.
Daniel Green added 15 points for the Spurs, who improved to a league-best 38-11 but lost Tim Duncan with reported knee and ankle sprains. Washington's John Wall led all scorers with 21 points and also provided nine assists.
Elsewhere, Kyrie Irving bounced back from one of the lowest nights of his short NBA career to produce one of his best, pouring in 35 points as the Cleveland Cavaliers overcame the Oklahoma City Thunder 115-110.
After Friday's loss to the Detroit Pistons, 2011's top overall draft pick Irving courted controversy by saying he became "disinterested" during the game, but he responded by scoring 13 points in the last three minutes on Saturday to leave high-flying Oklahoma City reeling.
Kevin Durant scored 32 points and Russell Westbrook 28, but it was not enough for last season's Western Conference champions.
Triple-double
James Harden scored a triple-double of 21 points, 11 rebounds and 11 assists as the Charlotte Bobcats recorded a 109-95 win over the Houston Rockets.
A bad night for the Bobcats was compounded by the sight of rookie Michael Kidd-Gilchrist being taken to hospital in a neck brace after colliding with team-mate Jeff Taylor.
Great Britain star Luol Deng had 25 points and 14 rebounds as the Chicago Bulls shrugged off their injury problems to beat the Atlanta Hawks 93-76.
JR Smith scored 25 points as the New York Knicks trounced the Sacramento Kings 120-81, while the Orlando Magic saw their losing streak hit nine matches as the Milwaukee Bucks claimed a 107-98 win.
Stephen Curry scored 29 points as the Golden State Warriors saw off the Phoenix Suns 113-93 for their fourth straight win.
The Minnesota Timberwolves saw off the New Orleans Hornets 115-86 for their first win in seven and the Portland Trail Blazers beat the Utah Jazz 99-85.