NBA: Dwyane Wade guides Miami Heat to 15th consecutive win
The Miami Heat recorded their 15th successive win after a comprehensive 97-81 victory over the Minnesota Timberwolves.
Last Updated: 05/03/13 7:42am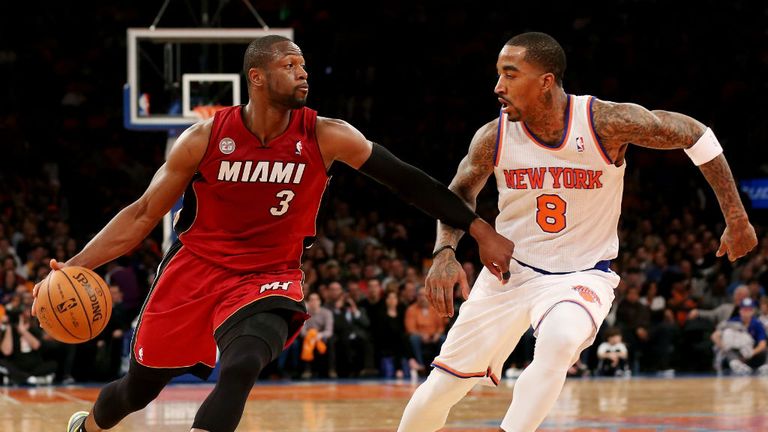 Dwyane Wade was once again the leading light for the Heat with 32 points, 10 rebounds and seven assists, while LeBron James defied a sore left knee to score 20 points and grab 10 rebounds.
For the Timberwolves Derrick Williams had 25 points and 10 rebounds and Ricky Rubio had 14 points, eight assists, six steals and five rebounds.
Their cause was not helped, though, when JJ Barea was ejected in the fourth quarter for a hit on Heat guard Ray Allen. Protest from Wolves coach Rick Adelman also earned him a technical foul.
The New York Knicks overcame a 22-point deficit to beat the Cleveland Cavaliers 102-97, with Amare Stoudemire scoring 22 points and JR Smith adding 18.
Injured
The Knicks had trailed 52-30 in the second quarter against Cleveland when Carmelo Anthony injured his right knee. Kyrie Irving scored 22 points in his return after missing Cleveland's past three games with a hyper-extended right knee.
Orlando Magic ended a three-game losing run with a 105-102 win against the New Orleans Hornets, with five of Arron Afflalo's 26 points came in the final 38 seconds.
Milwaukee Bucks edged Utah jazz 109-108 in overtime as Monta Ellis scored 34 points and Brandon Jennings added 20 points and 17 assists.
Corey Brewer scored 22 points and Ty Lawson had 18 in the Denver Nuggets' 104-88 win over the Atlanta Hawks. Josh Smith chipped in 15 points for the Hawks to become the 24th player in league history to collect 10,000 points, 5,000 rebounds, 2,000 assists and 1,000 blocks.
The Portland Trail Blazers defeated the Charlotte Bobcats 122-105 and the Golden State Warriors were 125-118 winners against the Toronto Raptors.