NBA: James Harden leads Houston Rockets past slumping Indiana Pacers
James Harden scored 28 points as the Houston Rockets condemned the Indiana Pacers to a third successive defeat.
Last Updated: 08/03/14 9:34am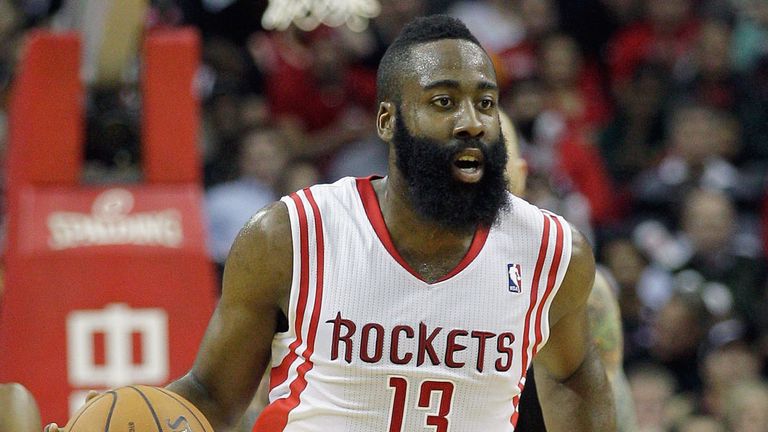 The Rockets turned a close game into a blowout in the third period, which they won 38-16 to extinguish any chances the Pacers had of a fightback.
Harden hit four three-pointers and was one of five Rockets players to score in double figures, Dwight Howard adding 15 points and seven rebounds as the Rockets won their fourth straight.
The reeling Los Angeles Lakers improved on their record defeat at the hands of the Clippers on Thursday but were still unable to secure a victory as they went down 134-126 against the Denver Nuggets.
Kenneth Faried scored a career-high 32 points for the Nuggets and Ty Lawson weighed in with 30 in a game that lacked defense and saw the teams combine for 26 three-pointers.
The Dallas Mavericks threw away a 30-point lead on the Portland Trail Blazers before rallying in the closing minutes to win 103-98 with Dirk Nowitzki scoring 22 points.
Golden State made it three wins on the bounce with David Lee scoring 18 points in the Warriors' 111-97 win over the Atlanta Hawks.
The Brooklyn Nets' four-game winning streak came to an end with Rajon Rondo scoring 20 points for the Boston Celtics in their 91-84 victory.
Anthony Davis continued his incredible season with 29 points and 14 rebounds for the New Orleans Pelicans in their 112-104 win over the depleted Milwaukee Bucks.
There were also wins for the Memphis Grizzlies, who beat the Chicago Bulls 85-77, and the Toronto Raptors who saw off the Sacramento Kings 99-87.
The Charlotte Bobcats defeated the Cleveland Cavaliers 101-92, the New York Knicks beat the Utah Jazz 108-81 and Kevin Love scored 28 points for the Minnesota Timberwolves in their 114-101 win over Detroit.