Trainer Dominic Ingle talks to Sky Sports
As Kell Brook prepares to fight for a world title in California we talk to the man who has prepared him for the big occasion, and about why the Sheffield fighter has to stay focused against Shawn Porter...
By Rob Lancaster
Last Updated: 11/08/14 6:54pm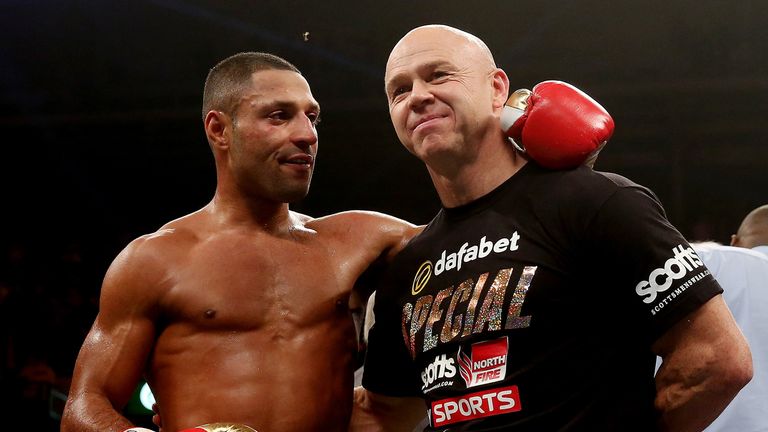 Having been made to bide his time before finally getting a crack at becoming a world champion, it was always going to be the case that Kell Brook would be ready for the big occasion.
On August 16, in Carson, California, the Sheffield fighter gets the chance to get his hands on the IBF welterweight title. The opportunity has been a long time coming, and trainer Dominic Ingle has made sure his man is ready to do whatever it takes to return home with the belt in his possession, making those long runs, those weights sessions and the seemingly endless hours on the pads all worth it.
Standing in the Sheffield man's way is reigning champion Shawn Porter, an American who, like the challenger, boasts an unbeaten record.  An 'O' will have to go it seems.
Kell has had to put up with a lot. He's been waiting for this fight for a year-and-a-half. He's done everything right and he's been kept on track. He's trudged through the people who have been put in front of him.
Ingle on Brook
"The one thing we couldn't be for this fight was underprepared," Ingle told Sky Sports before Brook and his team flew out to the United States.
It appears that definitely won't be the case. Seemingly no stone has been left unturned in the build-up – Brook has been to sunnier climes twice for warm-weather training, plus sparring partners have been hand-picked to replicate Porter's ring style.
"By The time he steps into the ring in Carson he will have been in camp for 16 weeks – that's the longest he's ever had," Ingle – no stranger to world title fights from his time working with Naseem Hamed, Junior Witter and Sky Sports' very own Johnny Nelson - continued.
"It's not been 16 weeks of madness – it's been a steady build-up. There are reasons for that, just by the process of the Devon Alexander build-up and things going backwards and forwards. Nothing was ever nailed down.
"Paulie Malignaggi boxed Porter at the end of April and I said to Kell four weeks before that we needed to start camp. We were looking at July, so we needed to give ourselves enough time to allow for the shenanigans as well. They might have even bought the date forward.
"He (Brook) has put all the work in. He's had good training camps out there in the heat in Fuerteventura. It's just getting him to peak at the right time. He's in great shape and has his mind on the job."
Frustrating
The fight against Porter will not just be the biggest night of Brook's career. It will also put to an end a frustrating period that has seen his career dogged by setbacks.
He won an eliminator way back in the summer of 2012 but has since been made to wait for his opportunity. Injuries, both to himself and scheduled opponents, have scuppered previous dates. Devon Alexander was lined up more than once but then lost his title to Porter. Each time it seemed to edge closer, Brook's path was barred by another obstacle.
Brook himself admits at times during the last 18 months he had found himself in a "dark place". His trainer has been there with him throughout the ups and the downs, and believes that his man will only be stronger for what he has been through, what he has had to endure in the bid to become a world champion.
"More than anything for Kell it's been hard. You just want things to move along smoothly, but yet it never does in boxing," Ingle said.
"The one thing about the sport is that there's always something happening with injuries, pull-outs, delays. That's part of the game. But that makes you a better person if you can handle it.
"Kell has had to put up with a lot. He's been waiting for this fight for a year-and-a-half. He's done everything right and he's been kept on track. He's trudged through the people who have been put in front of him.
"The fight he was really up for was Vyacheslav Senchenko (one Kell won inside four rounds last year) and he performed in that one. People said he (Senchenko) was past it, but he had done a job on Ricky Hatton and up until that point he had been stopping everybody. He wobbled Kell too, but Kell came back and finished him off."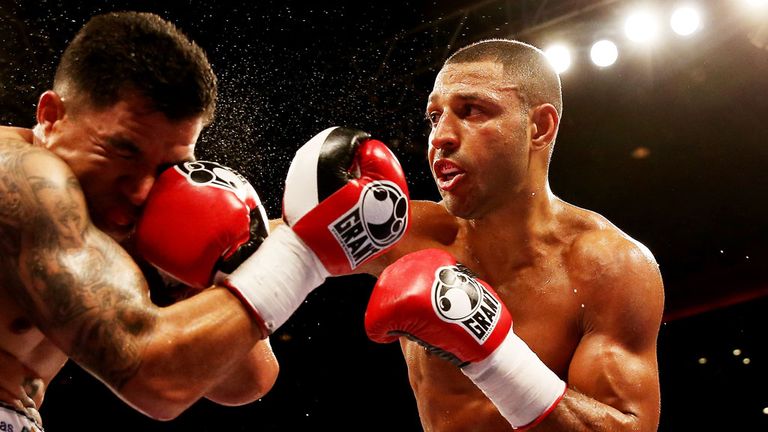 So what does Ingle make of Brook's next opponent? Porter became a world champion when he caused something of an upset in out-pointing Alexander at the end of last year. He has since successfully defended his crown by stopping Paulie Malignaggi inside four, meaning he has now won 24 and drawn once in his career.
"He came from nowhere really and surprised Devon Alexander," Ingle said of the 26-year-old from Akron, Ohio. 
"He didn't stop him, though. I'd be concerned if he had knocked Alexander out in two or three rounds, then you'd think this lad was a real handful.
"But after I watched that fight I saw both men walking around the ring wondering who had won. It was very much of anti-climax and I don't think either of them were sure. Porter was mauling and brawling, while Alexander was trying to fight. It was a bit messy.
"Kell is quite a clean fighter – he's not into all that rough and tumble stuff, but in America they let you get away with far more. So, he's got to expect that, yet still not get distracted by it too much that he can't stick to his boxing.
"I've told Kell he's going to try and drag you into a fight that you don't want to do. Kell has got to keep his focus, revert back to his boxing. Don't go through the fight like Alexander did (against Porter), wrestling and holding too often.
"But the prime example for Kell is Floyd Mayweather. You've got to roll, get out of the way and get back on with your boxing, establish your shots and give him something to think about before he steps in.
"I think Kell has more power than Alexander. If, when, he does connect it will just stop Porter coming in. It will make him more cautious."
Enthusiasm
Brook has so far done all that has been asked of him. In fact, Ingle – son of legendary trainer Brendan – admits it has been hard to get the 28-year-old to take a day off, such has been his enthusiasm to be in peak physical condition.
After 32 straight victories, some much easier than others, the time has come to find out just how good 'The Special One' is. Even the man in his corner isn't quite sure if we have seen the best of Brook.
He came from nowhere really and surprised Devon Alexander
Ingle on Porter
"He is one of those fighters that does what is required," Ingle said.
"I've seen the likes of Martin Murray, Darren Barker and other British boxers rise to the big occasion. When you're in that position in the arena that you realise that it is a world title fight and there is no going back.
"I think Kell will rise to the occasion, I think he will go through the gears. And he will have to, because Porter is a handful." 
The one thing that is certain for Brook is he has done all he can to be ready. The wait is almost over, the moment of reckoning finally here.
Watch Kell Brook take on Shawn Porter, one of three world titles you can see live. Coverage begins at 2am on Sky Sports 1 on August 17.