Punchlines
Heavyweight hope David Price expects David Haye to stop Dereck Chisora in their controversial fight.
By Nick Parkinson
Last Updated: 09/05/12 3:20pm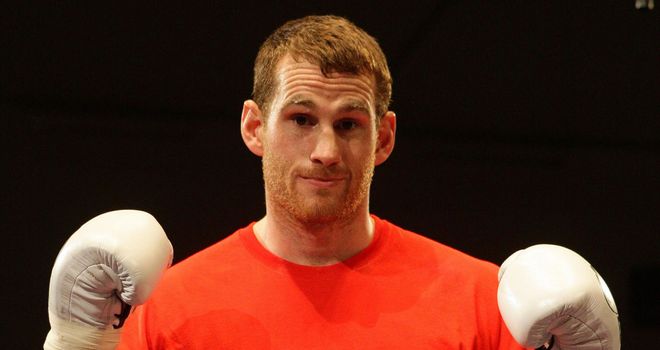 Heavyweight hope David Price expects David Haye to stop Dereck Chisora in their controversial clash on July 14.
Having sparred with both the Londoners, Price is in a good position to judge the winner of the heavyweight grudge match at Upton Park.
Liverpool's 2008 Olympic bronze medallist, who faces Sam Sexton for the vacant British heavyweight title live on Sky Sports on May 19, helped Chisora prepare for his points defeat to WBC world champion Vitali Klitschko in February.
Chisora then brawled with fellow Londoner Haye at the post-fight press conference in Munich and their fight at West Ham's ground is set to go ahead with neither holding a boxing licence.
Price, 28, believes former WBA world champion Haye will settle his differences with a stoppage win over Chisora.
"It's a slap in the face for the British Boxing Board of Control but I think it was inevitable it would happen because of the money that was involved," Price told Punchlines.
"People find a way of overcoming obstacles and politics when there's a lot of money involved.
"They both bring different strengths to the table and one thing Dereck has had in his favour recently is that he's done well against taller men like Vitali Klitschko and Robert Helenius.
"It's difficult to fight someone who is smaller than you because it is difficult to get to them.
"But Haye will be on the same level as Chisora and could catch him on the chin. Haye has got the skills and power and I think his speed and reflexes, with Chisora not being the fastest, will be crucial.
"It will be an interesting fight aside from the circus. I think David Haye should win because he's got more quality.
"I imagine it will be stoppage but it will not be easy because Chisora is one tough man and gone the distance with Klitschko."
Quick Hits
Ashley Theophane was left inspired and motivated after training alongside Floyd Mayweather Jr at a Las Vegas gym.
The London light-welterweight spent eight weeks training in the States to prepare for a third defence of his British title against local hero Steve Williams in Liverpool, which will be shown live on Sky Sports on May 19.
Theophane, 31, spent two weeks training at Mayweather's gym ahead of the American's points win over Miguel Cotto last weekend.
"I was in America for eight weeks and did two weeks training at the Mayweather gym, which was an amazing experience," he told Punchlines.
"It was a good way to prepare for Steve Williams and great to watch Floyd prepare for Miguel Cotto. I saw how hard he trains and works and I got some tips from him out there.
"It was inspiring, made me train harder, and I've been invited back when hopefully I will get the chance to spar with Floyd."
David Haye and Dereck Chisora will be doing a behind the scenes 24/7 documentary series as part of the build-up to their controversial clash at Upton Park on July 14.
Sheffield super-bantamweight Kid Galahad, 22, is expecting a tough night on Saturday, when he faces Barnsley's Josh Wale. He said: "I don't want to fight bodies and Josh Wale fights for fun. He's from Barnsley and on Saturday night there it's like the wild west. They all get drunk and come out the pubs and start fighting."
David Price's British heavyweight rival Tyson Fury is being pencilled in for a return to action on June 30, after his stoppage win over Martin Rogan last month.
Kevin Mitchell is expected to be announced as Scotsman Ricky Burns' next challenger for his WBO world lightweight title at Upton Park on July 14. Mitchell, from nearby Dagenham, will have plenty of support at West Ham's ground.