Kell Brook in stable condition follwing 'life-saving' surgery after Tenerife attack
Last Updated: 06/09/14 11:16am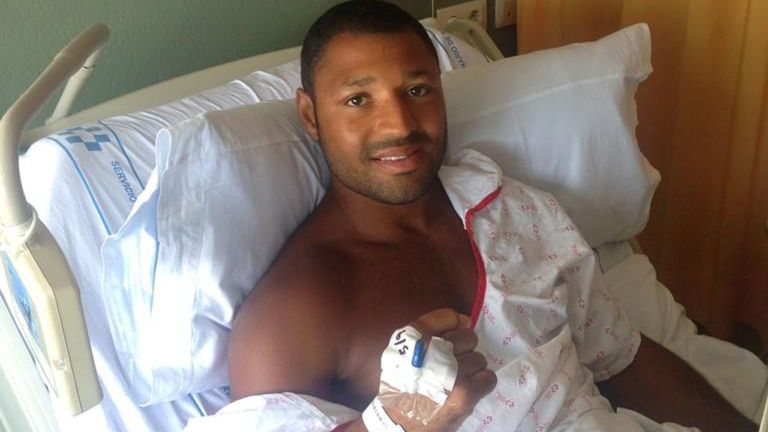 Kell Brook is in a stable condition in a Tenerife hospital following "life-saving" surgery on serious stab wounds to his leg.
The IBF welterweight champion was attacked while on holiday with his family in the early hours of Thursday morning, and he was admitted to hospital with injuries to his leg and arm.
His family revealed that Brook required emergency surgery after losing a lot of blood as a result of the attack, but he now appears well on the road to recovery.
Brook's manager, Eddie Hearn, flew to Tenerife to visit the Sheffield fighter, who has now issued a statement via Matchroom Sport.
Brook said: "I was out enjoying a night out before returning home to the UK when I was the victim of an unprovoked attack.
"I'm devastated right now after being on such a high having achieved my dream of becoming World Champion in Los Angeles last month.
"This is obviously a major setback but the thought of defending my title is what's keeping me positive right now. I want to thank everyone for their support and ask for privacy for myself and my family at this time. Make no mistake – I will be back."
The statement added that Brook will spend the weekend in hospital and will return to Sheffield on Monday to begin his rehabilitation.
Hearn said: "We were all glad to get out here and see Kell for ourselves. The important thing now is to get him home and after some rest begin physiotherapy on his injuries. His first defence was planned on December 6 which is now unrealistic but we fully expect Kell to be back in the ring early next year."
Brook's family had earlier revealed the severity of his injuries, which were far worse than initially thought.
The family's statement read: "Kell Brook got stabbed three times in his leg and once in the arm. He was critical, lost a lot of blood. Had a major operation that saved his life.
"The Brook family want to thank all the staff at Tenerife hospital for their great work. The operation was a success and Kell is awake and starting his recovery from this horrendous attack. We thank you all for your well wishes and support."