Carl Frampton vs Scott Quigg: Joe Gallagher hopes for war
By Isaac Robinson
Last Updated: 14/01/16 12:12pm
Trainer Joe Gallagher has urged Carl Frampton to stand toe-to-toe with his charge Scott Quigg in their unification bout.
WBA world super-bantamweight Quigg will finally face IBF holder Frampton at the Manchester Arena on February 27 after lengthy negotiations - and Team Frampton have already insisted they hold the aces in all departments.
But Gallagher retains every confidence that Quigg (31-0-2-KO23) has what it takes to stop the Northern Irishman, who was knocked down early on by Alejandro Gonzalez Jr in his previous defence.
Scott's said all along is: Don't run. If you're confident about your chin and your power, stand and fight.
Joe Gallagher
Gallagher told Sky Sports: "I think Frampton will come with the attitude of: I'm going to get you before you get me. Frampton knows now he can get put over and he's seen Scott is a power-puncher so I wouldn't be surprised if he came out and tried to hurt Quigg early on.
"People forget that Quigg is a very good back-foot fighter as well. Whatever Frampton wants to bring, all Scott's said all along is: Don't run. If you're confident about your chin and your power, stand and fight, because we're confident in our power.
"There's a lot more to see from Scott Quigg. There are four or five different versions. When he spars, one day he can do it on the back foot, the next on the front foot and then go old school.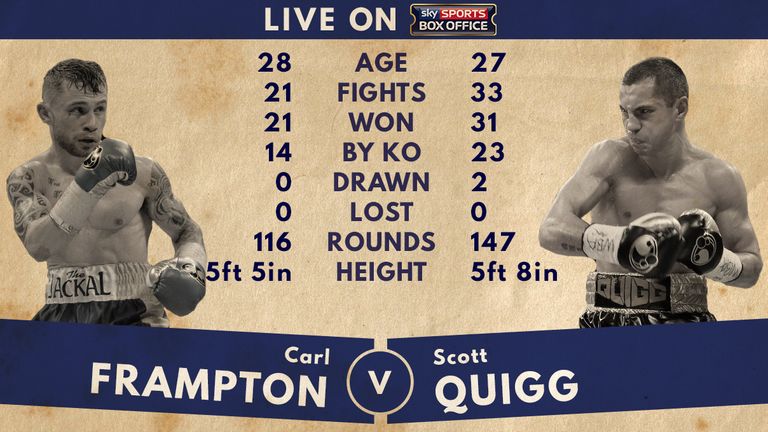 "There are so many strings to his bow and we just haven't had the fight where he's had to pull out more than one or two. When he beat Hidenori Otake, he wasn't pleased but I was because it showed he could box on the front foot and the back foot.
"When people see what Quigg can do, they'll be like 'wow - that kid really is good.' We know there'll be different styles against Frampton. Frampton will switch and we'll have to adapt and apply. Frampton will have to adapt and apply to our changes in style too.
"Once people see the ring craft and the cuteness Scott has got, they'll really take to him. Quigg is a connoisseur's boxer. If you know your ring craft, Quigg is your man. He's an old school fighter and had good education as an amateur.
"If you see in some of his fights, he's thrown old school hooks to the body. You could put him back in the 1960s and he wouldn't be out of place with his style of fighting."
Quigg was last in action in July 2015 - the same night as Frampton defeated Gonzalez Jr - when he blasted out former world champion Kiko Martinez inside two rounds.