Scott Quigg and Carl Frampton will finally get to settle their differences in a super-bantamweight world title unification fight, live on Sky Sports Box Office.
Bury's WBA Superchampion Quigg (31-0-2) will box Belfast's IBF king Frampton on February 27 after rival promoters Eddie Hearn and Barry McGuigan reached agreement following months of negotiations.
Remember Quigg's most recent five fights here...
Diego Oscar Silva
<b>The Basics</b>
Where: Manchester
When: November 23, 2013
Result: Win KO 2

Quigg's first defence of his newly-won WBA title, a month prior to boxing Silva, ended with a lacklustre draw to Yoandris Salinas in London but he emphatically proved his worth upon the grand unveiling of his championship back in Manchester, as chief support to Carl Froch-George Groves I.
His Argentine opponent boasted a 29-2-4 record as he touched down in Quigg's homeland but, less than five minutes after the opening bell, he was sent packing with aplomb.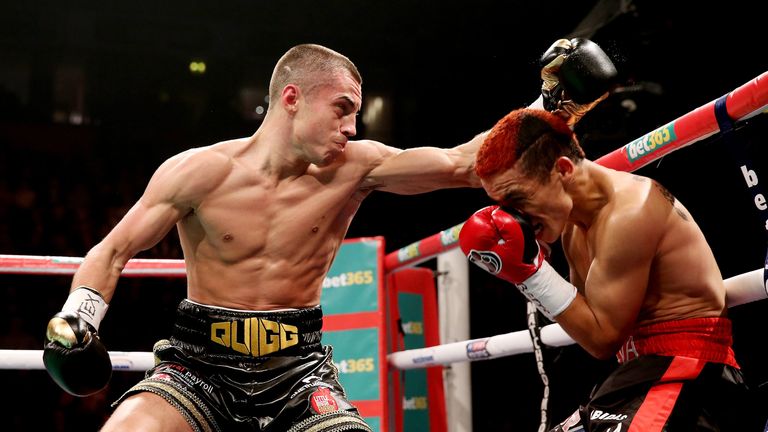 Early in the second round he cracked Silva with an uppercut. The challenger went down, clambered back up, but need not have bothered. His quick realisation of what he was up against was confirmed in the next few moments as Quigg floored him again with a right hand that sealed the deal.
Tshifhiwa Munyai
<b>The Basics</b>
Where: Manchester
When:April 19, 2014
Result: Win KO 2

Quigg's next fight saw him graduate to the headline act in Manchester.
Yet he owned that stage like a seasoned top-level performer, sending his vocal supporters home happy with another decisive knockout. His South African opponent, a late replacement for Nehomar Cermeno, barely had a chance to gain his bearings on the map before being given a rude welcoming.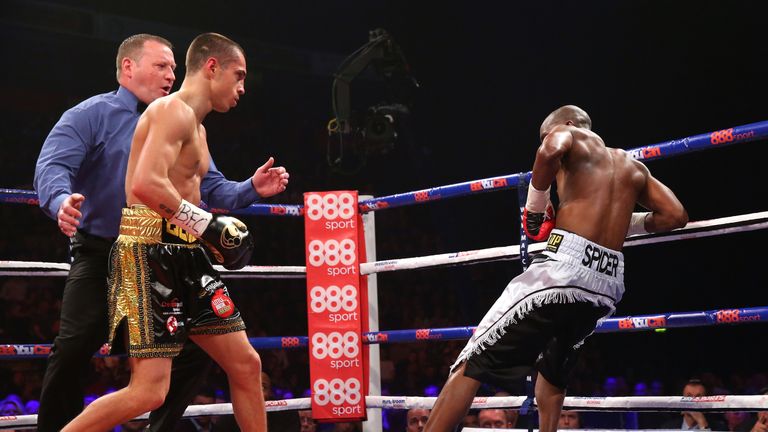 The bell for the end of the first round bought Munyai some time, after Quigg stepped backwards out of a clinch and dropped him with a left. The challenger bravely staggered out of his corner for the second round, and really demonstrated his mettle by rising off the canvas again after Quigg lamped him with a straight right, but another flurry of punches forced the referee's intervention.
Stephane Jamoye
<b>The Basics</b>
Where: Manchester
When: September 13, 2014
Result: Win TKO 3

Carl Frampton's capture of the IBF championship a week earlier had ramped up the debate over the UK's top super-bantamweight, and increased the demand for us to find out. Quigg responded to his rival's moment of glory with a spiteful whipping of his latest challenger.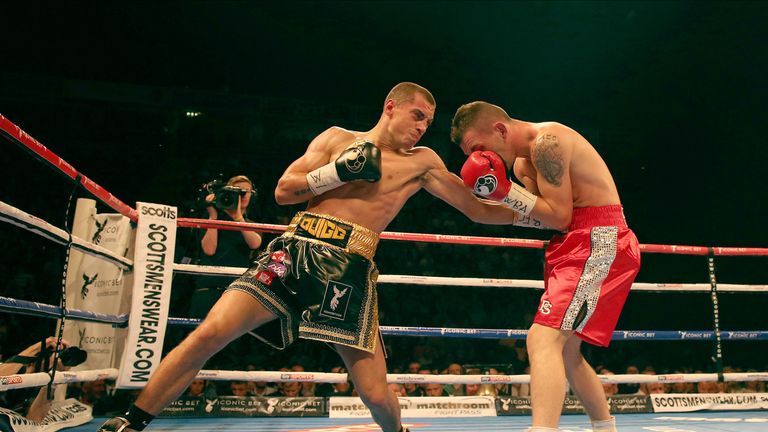 Quigg used Jamoye as target practice for just over seven minutes until the Belgian's desire to remain standing had evaporated. The last of several sickening body shots ended the fight, and Frampton's name was mentioned as a future foe in the post-fight speeches.
The wheels had been set in motion, but Quigg had more obstacles to knock down before getting his mitts on 'The Jackal'.
Hidenori Otake
<b>The Basics</b>
Where: Liverpool
When: November 22, 2014
Result: Win UD

Despite the blitzing knockout wins that defined his reign as champion so far, it was this gutsy victory in Liverpool against a stern challenger with an intimidating record that established Quigg as a world champion ready for all-comers.
Boxing outside of Manchester for the first time as champion, Quigg faced Japan's Otake, whose only career defeat had come seven years earlier via a points decision.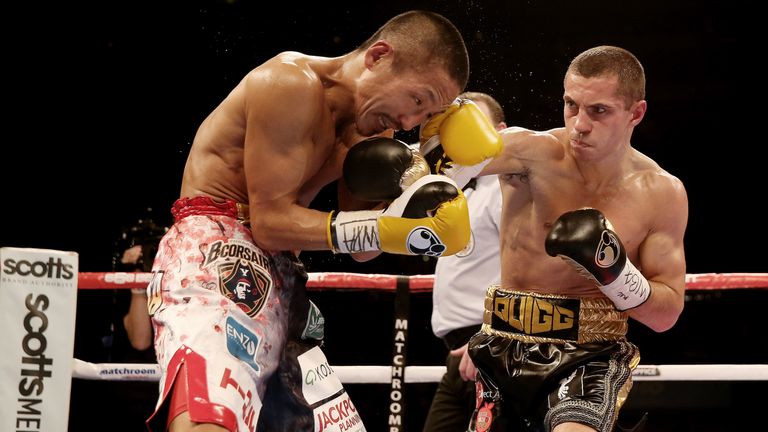 Otake suffered a nasty cut to the eye yet showed no desire to use that as an escape route. He forced Quigg to stand man-to-man for the distance and it was a challenge that the WBA champion accepted.
Twice the doctors allowed Otake to box on, and after 12 rounds all three judges handed Quigg a wide points decision which masked the visitor's toughness and durability.
Kiko Martinez
<b>The Basics</b>
Where: Manchester
When: July 18 2015
Result: Win TKO 2

As Frampton, in simultaneous action across the Atlantic, rose from a knock-down to register a tough title defence, Quigg was busy delivering an eye-opening display against Martinez. The rugged Spaniard had twice lost to Frampton, but never in the violent way in which Quigg dispatched him.
Martinez stalked the champion around the ring in a worrying opening round that offered no clue as to the quick-fire finish that awaited. A fierce uppercut jolted Martinez's head back and the veteran would never recover. Smelling blood, Quigg unleashed blindingly fast hooks that put the former world champion away.
Quigg's intensity at the final bell, matched by a partisan following who were convinced they were watching the world's premier super-bantamweight, meant that only one fight could possibly be next.
News filtered through that Frampton eventually toiled to a win against Alejandro Gonzalez in America and, all of a sudden, the United Kingdom's most in-demand domestic duel became more than just a faint hope.