Floyd Mayweather Sr claims his son is still the best
By Isaac Robinson
Last Updated: 04/10/16 9:30am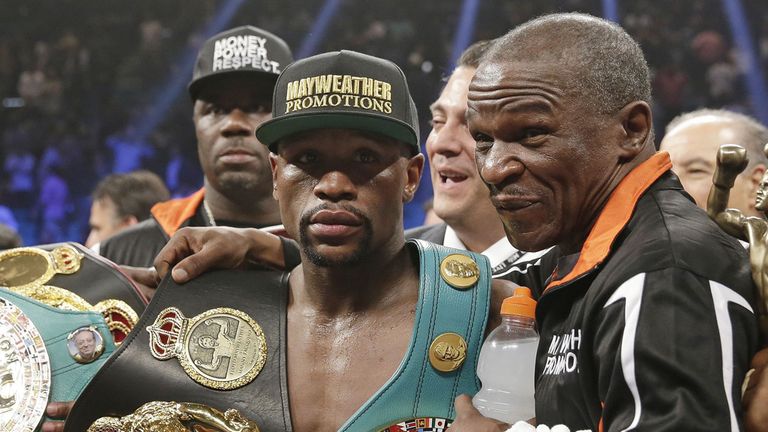 Floyd Mayweather Jr will beat all of the world's top welterweights when he returns, says his trainer and father.
'Money' (49-0-KO26) officially announced his retirement in September 2015 but few believe boxing has seen the last of him in a professional ring.
With several big names making clear their desire to oppose Mayweather in what would be a lucrative comeback bout, his father Floyd Mayweather Sr has issued a stern warning.
In an interview reported on On the Ropes Boxing radio: "You will be surprised how Floyd will do. You'll be surprised. If he gets ready to fight, I will make sure that he's in there to win and he will win.
"I know a lot about boxing and I know a lot of things to do to beat some of these guys that are still out there that are thinking they're going to be the next Floyd.
"Those guys that are out there, just like I said, I can still get Floyd to do what he's been doing. I'm telling you, I'm pretty sure of that. 
"I think Floyd can still win against some of those guys that are at a higher stage right now in the boxing game. I think Floyd pretty much still whoops all of them.
"He ain't been out that long. He's been out long enough but he ain't been off that long."
Amir Khan recently reiterated his plans to face Mayweather and hinted that the American is already back in training.
You can watch England's tour of Bangladesh, plus Premier League football and the Japan Grand Prix on Sky Sports. Upgrade now and enjoy three months at half price!