Brook vs Rabchenko: Explaining Kell Brook's weight cut into a new division
Seven extra pounds will result in 'a different animal'
By James Dielhenn
Last Updated: 24/02/18 8:08am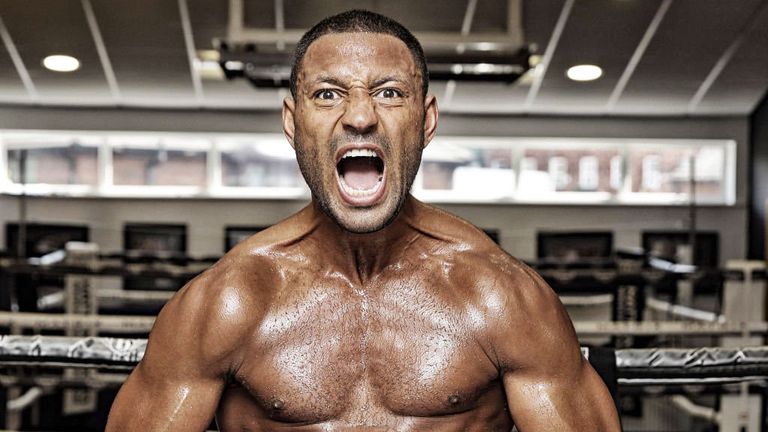 Kell Brook is no longer cutting as much weight, but that doesn't make the process easier. Sky Sports investigate rehydration, cheat meals and why a happy mind results in a healthy body…
Brook battled above his natural size at middleweight (160lbs), then lost his welterweight (147lbs) world title and will next compete at super-welterweight (154lbs) against Sergey Rabchenko on March 3, live on Sky Sports.
Nutrition expert Greg Marriott, who is also overseeing Tyson Fury's diet, explains how to refuel Brook.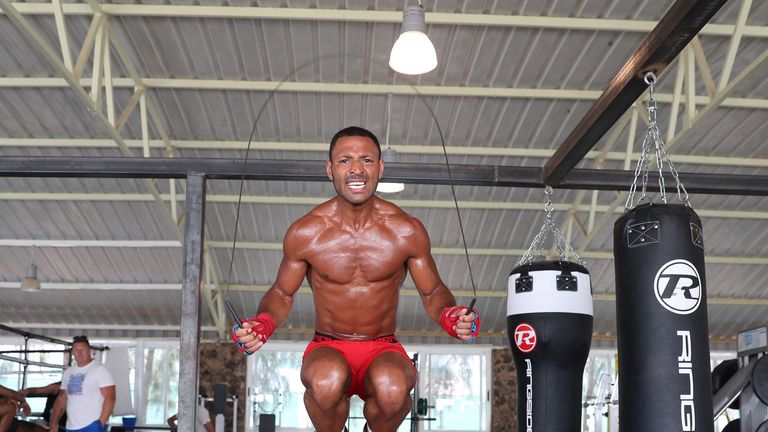 The weighting game
| | | | |
| --- | --- | --- | --- |
| | Welterweight | Super-welterweight | Middleweight |
| Pounds | 147lbs | 154lbs | 160lbs |
| Stone | 10st 7lbs | 11st | 11st 6lbs |
Is it a relief not to be making 147lbs again?
Even for a normal dieter, it gets harder year after year. Kell isn't getting any younger and the fights weren't getting easier.
How significant is the 7lbs difference?
Two or three pounds can be [a big deal]. It shows in the ring, and slows you down. Taking two or three pounds off when you're at your limit can either make or break you. The weight is massive for Kell, and it's a relief for everyone.
This doesn't mean we rest in camp, thinking 'we will be alright'. We don't want to make 154lbs the same struggle as 147lbs by taking our foot off the gas.
Can Brook eat more?
No extra food goes in. Welterweight takes so much from Kell, it is so hard, that 154lbs is realistically no different – except he doesn't need to lose an extra 7lbs. That's how serious it is.
Greg Marriott, Brook's nutritionist
How many calories does he consume?
Kell is not a regular joe - he is a supreme athlete. Someone like Kell, on a normal resting day, we'd give him 2,100 calories. Once you're as fit as Kell, you just metabolise it. We give him high carbohydrate days, and low carbohydrate days. We manipulate it. He has more calories on a training day - sometimes he can burn 1,000 calories in a session.
But you have to work closely with someone and understand the individual. The other day I told Kell 'you will wake up light in the morning'. And he did.
Kell Brook on his weight cut...
"I'm around good people, good fighters and we're dieting together. It's positive. I will miss this game when it's over because I love the banter in these training camps. I'm still big for light-middleweight so it will be difficult to make the weight but there's no 10lbs check-weight the next day. We might hit the weights more, put muscle on. Otherwise it's about endurance. The best will come out of me, with a few more pounds on me. I'm excited to test the new weight."
What is the most crucial aspect of a weight-cut?
Rehydration. People say it is dangerous cutting to these levels, but the main thing is rehydration and not cutting the water. You've got to be rehydrated even when you're not having much food, that is the key.
There will be no IBF 'rehydration rule' (where the boxers must weigh-in for a second time and be no more than 10lbs over the division limit). Does this help Brook?
Kell won't have to fight against that rule, which will be amazing. It is so hard trying to rehydrate. Every gram of carbohydrate that you have, 2.2 grams of water follows without even drinking. Everything must be taken into consideration. After he weighs-in we get the scales out, measure the water, how much he urinates. It is so hard. This time we don't have to restrict him with how much he can eat. That is massive.
Have you noticed a change in Brook?
The only change has been Kell's mindset. It is totally different. He's got his head around [the defeat]. I know he's got the buzz back, and he'll be a different animal. Do you know why? He's been watching Rocky again.
Is that mindset the most important thing?
This is what some people don't understand. If your fighter is not mentally happy, everything else falls apart. You can see a weight has been lifted from his shoulders and that will be massive inside the ring.
Will Brook have a cheat meal?
I tell fighters 'show me you can do this, and we'll give you a treat'. It satiates the mind. It's not cheating - it's good for the body and the mind.
Greg Marriott, Brook's nutritionist
Kell has the odd treat. People will think that is rubbish. But you try doing a 16-week camp with no treats whatsoever - the mind won't be healthy anymore. It then spurs the athlete on to work harder because they have had a treat. It's reverse-psychology but it works.
... And how heavy will he be inside the ring?
I'm expecting 12.2st [1.2st above the limit].
Watch Brook vs Rabchenko from Sheffield, live on Saturday, March 3, on Sky Sports Main Event & Action, from 7.30pm.