Brook vs Rabchenko: Kell Brook vows to return like the 'Terminator' in Saturday's fight
By Richard Damerell
Last Updated: 01/03/18 5:24pm
Kell Brook wants to live up to his new 'Terminator' nickname by completing a dramatic comeback win over Sergey Rabchenko in Sheffield.
The 31-year-old has overcome career-threatening eye injuries in back-to-back defeats before stepping up to super-welterweight for his fight against Rabchenko on Saturday night, live on Sky Sports.
Promoter Eddie Hearn revealed earlier this week that Brook had successfully come through some punishing sparring sessions and the 'Special One' is confident he can return stronger in a new weight class.
"The bone's knotted together and I've got titanium on top, so they call me the 'Terminator' now," Brook told Sky Sports.
I don't even think about it now when I go in to spar, or this fight. I just feel like I've got plenty in the tank.
Kell Brook
"The first few spars, I was a bit worried about it, but after I've been in with big guys and then bouncing off and hitting their hands, I realised I have got no problems.
"I don't even think about it now when I go in to spar, or this fight. I just feel like I've got plenty in the tank.
"I've got lots of energy and I'm looking to go old school in this fight. Be a bit lighter on my feet and use the ring well."
Brook is full of respect for Rabchenko after sharing the ring with the Belarusian in past sparring sessions.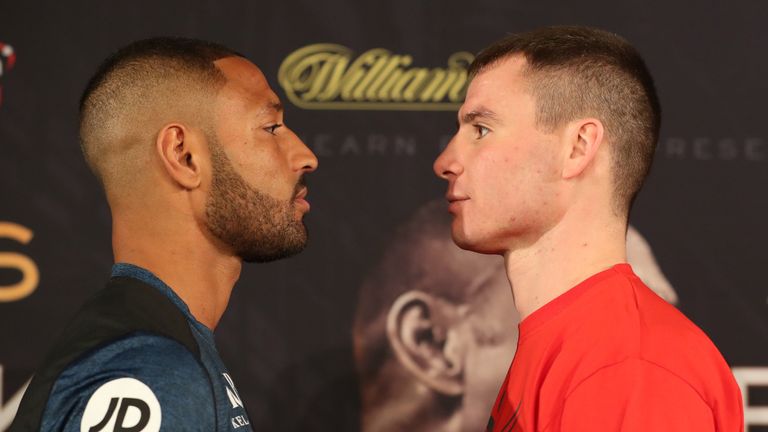 "He's a very good fighter, very clever," said Brook. "He has only got two losses, like myself. We've got similar records, a similar age to me.
"He's very strong. I'm coming up to this weight. He's naturally strong and powerful, and he goes to the head and body good. He uses the ring, he's a very clever fighter.
"It's a very tough fight. I know I've done everything right, but if anyone had not done anything right at the top level, they would get beat by this guy, because this guy is no joke."
Heavy snow has already disrupted sporting events throughout Britain, but Brook has laughed off the extreme weather conditions and hopes his hometown fans will turn out in large numbers.
"It needs to stay away," he said. "We need to fill that arena, and I need to get to the venue, so I believe the 'Beast from the East' has calmed right down now.
"I was going to ask him to have a snowball fight, but then I thought twice. He will be very good at that. We'll leave that alone and we'll fight on Saturday."
Watch Brook vs Rabchenko from Sheffield, live on Saturday, March 3, on Sky Sports Main Event & Action, from 7.30pm.