Brook vs Rabchenko: Kell Brook impressed on super-welterweight debut, says Carl Froch
Last Updated: 04/03/18 9:03am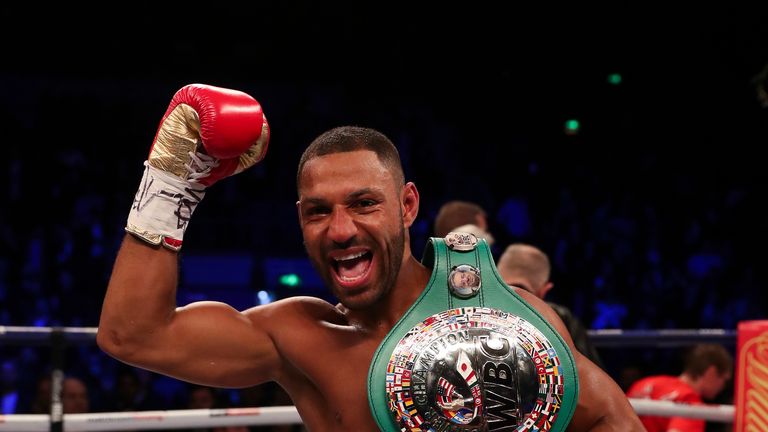 Kell Brook showed no signs of any mental scars as he made a "very impressive" super-welterweight debut by stopping Sergey Rabchenko, says Sky Sports expert Carl Froch.
The Sheffield man marked his first fight in a new division with an explosive second-round stoppage of Rabchenko in front of his hometown.
Froch watched from ringside as part of the Sky Sports team and believes Brook's career is firmly back on track after he overcame punishing defeats to Gennady Golovkin and Errol Spence Jr.
"Listen, do not write off Kell Brook," Froch told Sky Sports. "I've talked about his talent and now we're seeing it here at super-welterweight.
"He's got the power, don't get me wrong, he's not been tested really, but that's a really solid performance against a decent opponent for his first fight at this weight.
He didn't look like he was clinching, or twitching, or shying away from any shots coming at him.
Carl Froch
"Very impressive, just took his time early on, and when that shot landed, you saw what it did to the legs of Rabchenko. He finished off nicely with a straight right hand. Just took his time, didn't do anything silly.
"There were signs early on, he didn't look like he was clinching, or twitching, or shying away from any shots coming at him, so he doesn't look to me, from the small amount of time we've seen him, damaged or hesitant.
"Very relaxed, cool, calm and composed. Very accurate, a solid finish there. A great performance."
There will be more testing challenges ahead for Brook, who is due to return in June, and he talked about world title fights in his post-fight interview, along with that elusive domestic clash against Amir Khan.
Froch added: "There are lots of positives to take out of that for him at the super-welterweight division now, but you can't get too excited because there was no real questions asked in terms of being put under pressure, being put on his back foot, taking shots, hurtful shots.
"In terms of Team Kell Brook, you couldn't ask for much more than that."