Kell: I'll put the heat on Hector
Kell Brook has told fans to expect 'the best yet' when he takes on Hector Saldivia in a final eliminator for the IBF welterweight title.
Last Updated: 10/10/12 11:57am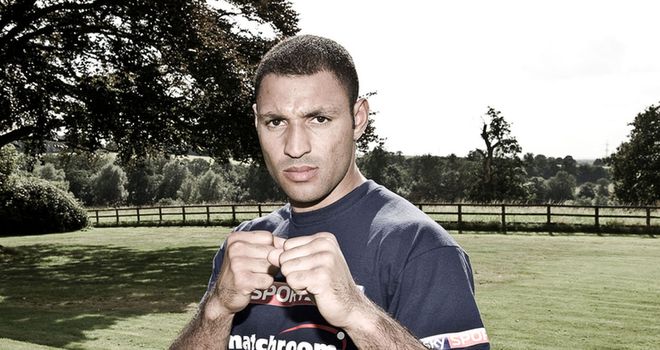 Kell Brook has told fans to expect 'the best yet' when he takes on Hector Saldivia in a final eliminator for the IBF welterweight title on October 20.
The 'Special One' from Sheffield returns to the Motorpoint Arena for the bill entitled 'This is It', a clear reference to the position the unbeaten Brook now finds himself.
Touted for some time as a future world champion, the 26-year-old extended his record to 28-0 with a nerve-wracking points victory over American Carson Jones in July.
Poor preparation, a broken nose and a tough opponent meant fans saw a different Kell Brook, one that could dig deep in times of adversity.
And with that gritty win under his belt, the former British champion believes he is now ready to make the step up to elite level.
"I started training late, I've done my own diet since I was an amateur and I definitely struggled with the weight," he told Sky Sports. "Having my nose broken didn't help, but it wasn't the best of Kell Brook.
"But now I've got a nutritionist, strength and conditioner, I've started camp a lot earlier, I'm feeling very fresh, training 100 percent every day, feeling very healthy. I'm in a very good place now.
"Come October there's only going to be one winner and that's the fans. You are going to see me against Saldivia and the winner gets that golden ticket.
"I'm chilled. I'm just glad I'm packing arenas out, getting well known. I think I needed another fight before the big one to sharpen up on things."
Heart
While Brook was far from happy with the way things panned out on July 7, he believes it is an experience that can only make him a better boxer.
"I found that I had big balls, a big heart to get through the fight," he added. "A lot of people I believe probably would have quit. I stuck in there to the very end, ground it out and got the win, and the fans went home happy. I'm not saying I was happy but you're now going to see the very best of me.
"I think that I've gone through a lot of things now. I've fought in America, been through a life and death situation in my last fight, I've been cut, I've seen it all. I know what to expect with everything and I'm all set and ready to put the heat on."
Brook is one of the big names in Matchroom's growing stable of young fighters, and the Sheffield ace is enjoying boxing undeer their banner.
"It's brilliant because I'm part of it. We're like a tight family and Eddie (Hearn) has promised and come up with the goods so far, he's delivered big shows," he said.
"I think that night in Sheffield was a great night for the fans and he's going to keep delivering top fights. Anyone joining Matchroom is going to be on big stages and you can't beat it. We've got a lot of dates from Sky, and any youngsters starting out have got the world at their feet."