Ricky Hatton has vowed to mark his comeback with a thrilling win against Vyacheslav Senchenko
Ricky Hatton insists Vyacheslav Senchenko will feel the force of three-and-a-half years of frustration on Saturday.
Last Updated: 24/11/12 10:26pm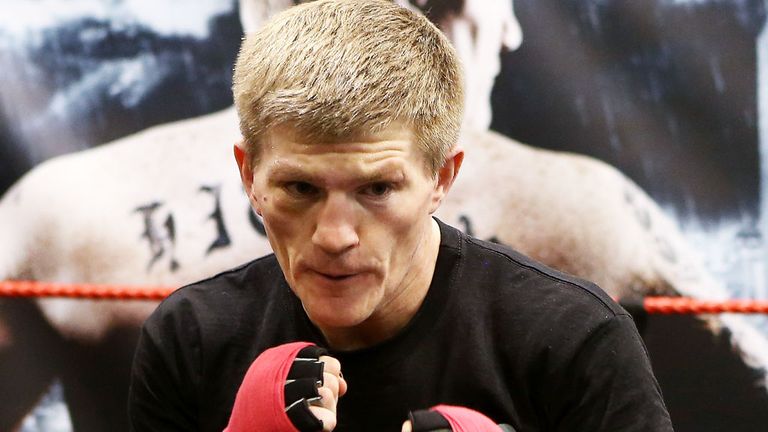 Hatton has been absent from the ring since a humbling knockout defeat by Manny Pacquiao in May 2009 and well-publicised battles with drink and weight gain threatened to tarnish his reputation.
But the Mancunian has beaten his demons and will restart his glittering ring career against Ukrainian Senchenko at his old hunting ground, Manchester Arena.
Hatton knows he still must silence his doubters, but the 34-year-old insists he is more hungry for success than when he won his first world title against Kostya Tszyu in 2005.
"The Ricky Hatton sat here is the meanest and most ferocious Ricky Hatton you've ever seen," he said.
"Seven years ago I beat Kostya Tszyu at the Manchester Arena and I was at my hungriest because I had a dream of becoming world champion but the desire I have for this fight is way beyond becoming a world champion.
"All those world titles mean nothing to me. I'm here to right the wrongs I've done. I know you won't believe me, after burning the candle at both ends, the second-round defeat against Manny Pacquiao, no way can he come back the same.
"Well I won't come back the same, I'm going to come back better."
Hatton's weight ballooned to 15 stone as he struggled to curb his excessive lifestyle, but he believes new trainer Bob Shannon has helped him get back to peak condition.
He said: "There's a lot of people out there, fight fans and the public, that have seen me at 15 stone bouncing round Manchester drunk as a skunk and must have looked at me in disbelief and thought, 'was this the man we used to admire, who won all those world titles'?
"I turned into a very, very sorry state. I feel like I've already won. Five months ago if I said I was going to come back you'd have laughed but I've brought my weight down in the correct way."
Shannon said: "It's been an amazing journey and I can honestly say, come Saturday night, it's going to be Ricky Hatton at his best.
"We're going to get the legend back."