Carl Froch set to face Mikkel Kessler in world title unification fight
Carl Froch has told Sky Sports News that he is confident of facing and beating Mikkel Kessler in the Spring of 2013.
Last Updated: 26/12/12 10:38am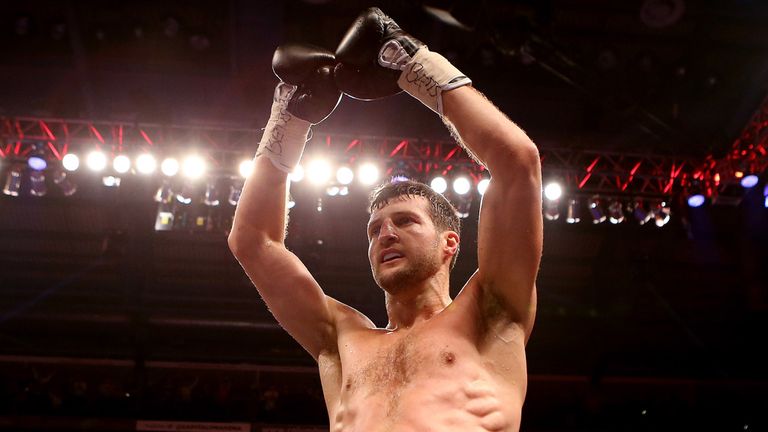 Britain's IBF super-middleweight world champion lost a points decision to the Dane in 2010 - just one of two defeats on his record.
Kessler won the WBA title from Brian Magee earlier this month and a re-match unification fight between the pair would be a major draw.
Froch said: "My promoter Eddie Hearn is working very hard, he is talking to Team Sauerland who are Mikkel Kessler's promoters and it sounded very, very promising. They are very close to doing a deal. It looks like the fight may be done by late Spring this year. That is a big, big fight that everybody wants to see so I am looking forward to getting it on."
The 35-year-old from Nottingham expects to reverse the points decision that went against him in Kessler's home town of Henning in Denmark two years ago.
"It was a close fight that I believe could have gone either way," he said. "Anyone you asked would probably agree that the fight could have been scored one round within Kessler winning and myself winning.
"But that is by the by, Mikkel Kessler won fair and square. He was at home, it was in Denmark. So the fight was close and he got the nod and that's what happens in boxing. If it is close... sometimes the judges give the fight to the home fighter."
Froch believes that it will be a very different story if the fight takes place in Britain.
UK soil
"We are going to get him over to UK soil. I don't think we'll get him to Nottingham but we'll get him certainly over here at home, so that rematch I very, very strongly believe I can win.
"I wasn't at my best when I fought Kessler and I am firing on all cylinders now, you have seen that when I ripped the world title from Lucien Bute and I defended it against Yusaf Mack with a body shot, folded him in half like a deckchair.
"And I am looking forward to getting Kessler and being at my best. It is going to be a tough fight, a hard fight between two warriors, because the first one was a proper brawl.
"People are looking forward to the rematch and they want to see much of the same. I don't know if I'm looking forward to the rematch but I can get up for it, get excited and I know I can go to the well if I need to. If me and Kessler go at it for 12 rounds there will only be one winner.
"I strongly believe I will defend my title. He has just won the WBA title by beating Brian Magee so I will add another belt to the collection which will be fantastic."
As for a re-match against Bute, whom he beat in May to claim the IBF title, Froch added: "It's a fight that may happen but it's not going to happen immediately. The next one is the Kessler fight, that's for sure."