Danny Garcia believes Amir Khan will learn little from Julio Diaz fight
Danny Garcia insists Amir Khan must face a top light-welterweight if he wants to prove he has learned from defeat.
Last Updated: 19/03/13 7:06pm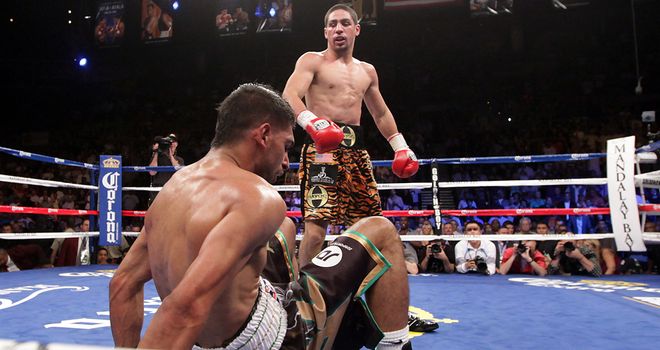 Garcia's shock knockout win over Khan last summer prompted the Bolton man to team up with new trainer Virgil Hunter and he will continue the rebuilding process with a fight against Julio Diaz on April 27.
Diaz is a former world champion at lightweight, but Garcia believes the 33-year-old is past his best and does not expect him to supply a stern test for Khan.
"It's a fight that he's supposed to win," the American told Ringside Toe 2 Toe podcast.
"You know Diaz's better days were at 135. He's a little older now. I think Khan's speed should get him through the fight and he should win.
When asked if Khan had improved, he said: "You're really not going to tell until he fights the top fighters. When you fight someone who cannot keep up with you, you are going to look like a star.
"If every time you step out there, you are fighting someone who cannot test your will and make you think, you are going to look good. You are really not going to tell until you fight another top fighter again."
Garcia defends his WBC and WBA light-welterweight titles against Zab Judah on the same night as Khan's fight and he is open to a rematch with the British boxer in the future.
"I beat him once and I could beat him again," he said. "This is the boxing world and I'm pretty sure a lot of people want to see that fight more than any other fight, so if I had to fight Khan again and my manager thinks it's a good move, and it's perfect, then we're going to do it.
"I duck nobody, never turn down opponents and if that's the guy who they want me to fight then that's who I'll fight."
Garcia feels his world title wins over Khan and Erik Morales have elevated him to the number one spot in the 140lb division, but he remains determined to show his rivals that he is top dog.
"At the time they said Amir Khan was the best in the division, so I beat the number one guy to prove that I was number one," he said.
"I never fought for the vacant title, that's the difference between me and a lot of champions. I beat Morales and he was the champion and I beat Khan and he was the champion, so I beat two champions to become the number one champion.
"Do I feel like I proved myself? Yes. Do I feel like I have to prove myself more? Yes."