Frank Warren says Nathan Cleverly may not get a rematch with Sergey Kovalev
Nathan Cleverly's promoter Frank Warren says there are no plans in place yet for a rematch with Sergey Kovalev.
Last Updated: 20/08/13 10:26am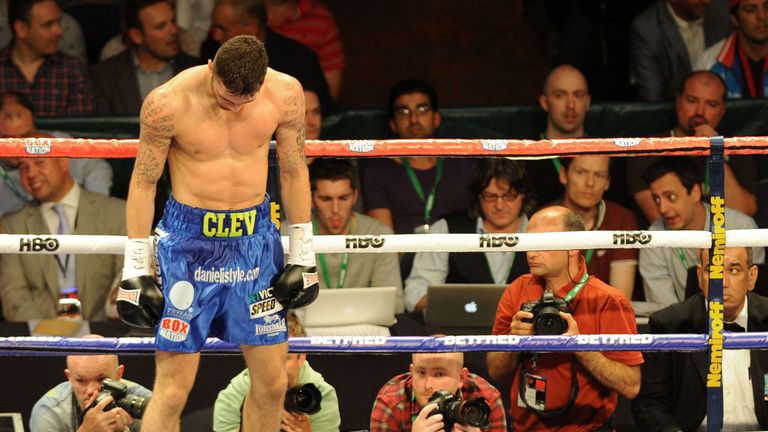 Cleverly lost his WBO light-heavyweight title to Kovalev on Saturday night in Cardiff, stopped in the fourth round after being floored twice in round three.
And he is not certain to get a shot at revenge because Warren says there was no clause in the contract for a rematch.
"We'll see what happens with regards to any rematch," said Warren. "It's early days.
"We'll let him have a break. It's all a bit raw at the moment, so we'll have a chat in a few weeks and see where we go.
"There isn't a rematch clause but I'm sure we could talk.
"At this stage, I'm not even thinking about a rematch. The most important thing now is for him to go and have a holiday and, when he comes back, we'll chat and see what is the way forward."
Fight was high risk
Warren agrees that Cleverly took a chance by facing the dangerous Russian but says it was the bout the Welshman wanted.
"It was high risk but I really did think he could win it," said Warren. "He asked for the fight. We met in London a few months ago and he actually said that was the one he wanted.
"He absolutely respected Kovalev's punching power. We all knew he could punch but he's one of those fighters that anybody who uses their brain and boxes will beat.
"Of course he can punch. There are lots of guys out there with serious knockout power in either hand.
"Nathan just couldn't get going. There was a period when he caught Kovalev with some nice jabs and the guy definitely didn't like it. But, once he (Cleverly) got clipped, he never got over it.
"It's time to go back to the drawing board. He's only 26 years of age and it's not the end of the world. Worse fighters than Nathan have lost and come back. There's no reason why he shouldn't but he's got to learn from it and we'll see where we go from there.
"He's going away to Cyprus for a couple of weeks and when he comes back we'll sit down and work out a gameplan."
Kovalev said: "It wasn't easy, because Cleverly was the champion. To be honest though, I've had harder fights in my career. I was ready for a hard fight.
"A rematch? Why not? But it's a question for my promoters, not me."