Learning on the job
Jamie Casey believes Amir Khan proved a point against Julio Diaz, but reckons a December title shot is too much too soon.
Last Updated: 01/05/13 10:04pm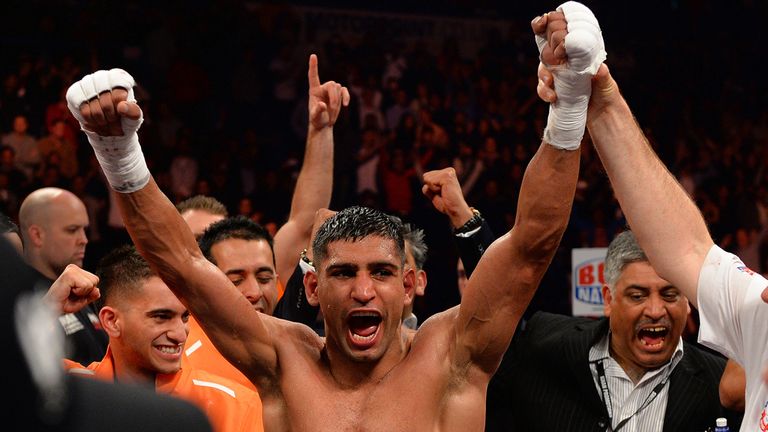 When Golden Boy's Richard Schaefer claimed Amir Khan would be back in the ring for a world title fight in December, the body language of Virgil Hunter spoke louder than words.
There was no nod of approval from Khan's trainer, just a blank stare at the ringside floorboards as though he was trying to figure out if what he was hearing was a worryingly high expectation from his fighter's promoter.
Khan had just beaten Mexican Julio Diaz by the skin of his teeth, courtesy of a narrow points decision in what turned out to be an unexpectedly tense, pulsating but ultimately enthralling bout in Sheffield, the like of which the boy from Bolton has become so accustomed to.
But rather than support Golden Boy Promotion's assertion that, as billed, the "king" was well and truly back, Hunter declared that "we've only seen 70 per cent of what he can do". That missing 30 per cent of Khan's prowess pie will define his career and how he goes about recouping the missing slices will determine which way it goes.
Khan, who always arrives on fight night in impeccable shape, will now have some time away from the gym as he prepares for his marriage next month, before the 26-year-old puts his body through the tough annual test of Ramadan in July, through to August.
All the while, Danny Garcia will be keeping his fitness up as he prepares to face the winner of next month's 141lbs bout between Lucas Matthysse and Lamont Peterson, in which no titles are on the line, with the Philadelphian having out-pointed Zab Judah in Brooklyn at the weekend.
The general conception is that, due to other commitments away from the sport, Khan will receive an unofficial bye to the "final" of what is effectively a mini-tournament planned out by Golden Boy Promotions, with Khan taking on the winner of Garcia vs Matthysse/Peterson in December.
The last man standing will obtain the WBC and WBA titles as well as the IBF Light Welterweight title, which is somehow still held by Peterson, despite the American failing a drugs test in the wake of his 2011 win over Khan.
Good intentions
While Schaefer and Golden Boy Promotions have good intentions in fast-tracking Khan back to a world title shot, trainer Hunter seems not so enthusiastic about throwing his fighter back into the deep end after what will be an eight-month layoff.
Impatient and eager as ever, another world title shot is the fight Khan wants the most. A chance to redeem himself against Garcia, or perhaps the opportunity to set the record straight with Peterson, while even a win over hard-hitting Argentine Matthysse would satisfy his needs if it can get his hands on a belt. But is it necessary to make such a fight happen this year?
Hunter spoke wisely when he reminded the post-bout media that Khan was still "learning on the job" under him. This was, after all, only his second fight in Hunter's hands having ditched Freddie Roach and the glamour of the Wild Card Gym in favour of the isolated, industrial location of Oakland.
A trainer knows his fighter's strengths and weaknesses best, not his promoters, and with Hunter one suspects that he will do all he can to avoid throwing Khan back in with Garcia, Peterson or Matthysse just yet, for it could potentially undo the work they've done in their first two fights together.
A December defeat would decrease that aforementioned prowess pie back down to about 50 per cent, if not smaller, and if Saturday night is anything to go by, there's more than enough evidence to suggest that the current Khan could quite feasibly suffer a third defeat in five if he faces any of the division's strongest contenders.
Hunter is doing right by Khan, though, having played a key role in hand-picking his last two opponents. The first of which, against natural lightweight Carlos Mollina, was the necessary confidence restorer as Khan was always likely to stop the Mexican-American, but many have expressed doubts over whether Diaz was the right choice for the second.
In hindsight, he was arguably the perfect match-up in what has proved a successful, albeit risky, strategy. In Diaz, Hunter encouraged a homecoming fight against a dangerous opponent who he knew would not end Khan's career, but would exploit his flaws and force the former IBF Light Welterweight champion to learn how to box his way out of trouble. And so he did.
Khan's well-documented spaghetti legs were on show on several occasions in front of his home support, as the experienced Diaz hurt the younger man more often than not when he connected with a clean left-hook, most notably in the fourth round when Khan hit the canvas.
"Glass jaw"
Lazily labelled as having a "glass jaw" or a "weak chin," Khan withstood some really heavy hits in rounds 10-12 and it's to his credit that the man cruelly nicknamed "a mere con" by internet trolls only suffered one knock-down, although he was perhaps fortunate not to be deducted a point by referee Marcus McDonnell for excessive use of clinching.
Granted, there were glimpses of his old ragged ways as Khan got sucked into a trade-off on a few occasions, but when he got tagged he either clinched or back-pedalled and sensibly used his remarkable recovery rate to see out a difficult final few rounds.
Khan puts bums on seats, such is his box office appeal, and those bums arise every time he gets clocked, out of anticipation of witnessing a knock-down, but any fighter who climbs off the canvas to score a points victory deserves recognition for his heart.
It's true that Khan, a devout Muslim who has never touched a drop of alcohol in his life, looks like the drunkest man in the arena when he gets stung - his face dropping in an instant with every meaningful power punch received - but it's his ring intelligence that poses his biggest threat, rather than his chin.
"I was pleased with the decisions that he made," added Hunter on the night, suggesting he knew all along that Diaz would force his student into survival mode at one stage or another.
He's already declared that Khan needs to return to America if he's to achieve his goals, but if Hunter continues to see only 70 per cent of his potential in training, there's no way he'll allow the 26-year-old in the ring with the division's elite, with Garcia appearing the biggest threat on current form.
When the two touched gloves last year, Khan stamped his authority on Garcia in the opening rounds before one counter left-hook swung the fight out of his favour in the third. Being the competent finisher that he is, Garcia made light work of Khan when he had him rattled, the fight being waved off in the fourth.
Khan, remember, is still "learning on the job" under Hunter and cannot afford to lose his next fight otherwise it's lights out on his career, for real this time. If he fights the best this year, he's likely to get hurt, and his trainer knows it.
Follow me on Twitter: @skyjamiecasey