British Face-Off #5 - Eubank v Storey
Nigel Benn was back to winning ways but with Ministry of Sound sponsoring his shorts, it was clear that life out of the ring was starting to play a major part in his career. Henry Wharton's career was also about to change inside the ring as he stepped up a level. Not for the last time...
Last Updated: 12/11/13 10:57am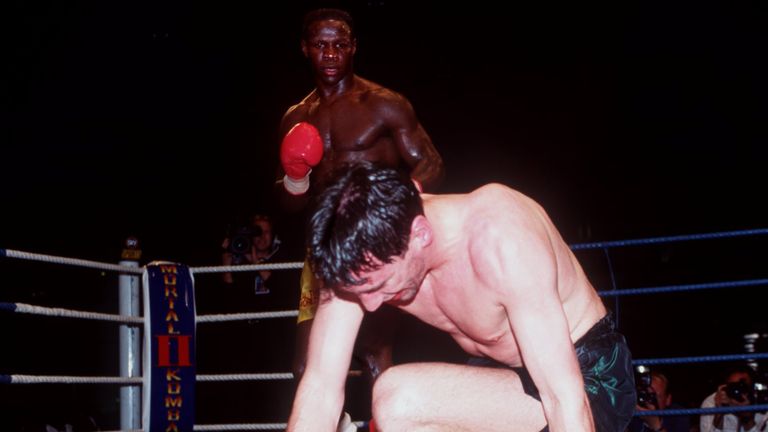 Who: Chris Eubank 38-0-2 (Champion) v Sam Storey 23-2 (Challenger)
What: WBO Super-Middleweight titles
When: August 27, 1994
Where: International Centre, Cardiff
Won: Chris Eubank won TKO 7
Who else was on
It was a time when the main event was often the only 12-rounder on the card and chief support came from local lad Barry Jones, who made it 11-0 by out-pointing Kelton McKenzie and would eventually end up a world super-featherweight champion. Carlos Christie would lost to Antonio Fernandez on points before he went on to fight future super-middleweight world champions Glenn Catley and Joe Calzaghe - the West Midlander's 37th and last fight.
What we recall
"Sam Storey was from Belfast and I think he now works in the airport out there. If I am right, this was when Eubank boxed frequently on his tour and although Storey was a decent fighter but it just looked like too big a step up for him. Too big an occasion for him, but a decent guy. But it was in Wales and I remember him chatting to me and Ian Darke, asking if there was anywhere decent to go and eat. So we told him where we were going and he ended out coming out for dinner with us! A nice guy." Glenn McCrory
"The Eubank fights had started coming thick and fast and all I can really remember is him stopping Storey. Chris was a class above but he had not long ago struggled against another Irish fighter, Ray Close and we might not have been looking back at this and the rest, had he not been so vital to the WBO! But although I am sure Sam Storey gave it his all, he was simply outclassed." Jim Watt
What the winner said
"This fight saw me stop my opponent for the first time in 30th months, when his corner threw in the towel in the seventh. He had gone down in an earlier round and hurt his ankle but I think psychologically he had too much fear to fight me. The Storey fight contained my 300th professional three-minute round. Despite such a lengthy record, I was still phenomenally fit and motivated."Chris Eubank
What happened next
Sam Storey did not get another chance at a world title and certainly not a rematch despite the injury - even when Eubank didn't try and take all the credit! He didn't return to the ring until March but a month later he was celebrating as he was crowned British Super-Middleweight champion for the second time... in six years! As for Eubank his world tour would continue and in October take him to Sun City no-less, where he beat Dan Schommer and the points wins would return!