Glenn McCrory hails Adrien Broner after his victory over Gavin Rees
Glenn McCrory labelled Adrien Broner 'the next superstar of boxing' after his defeat of Gavin Rees.
Last Updated: 17/02/13 1:59pm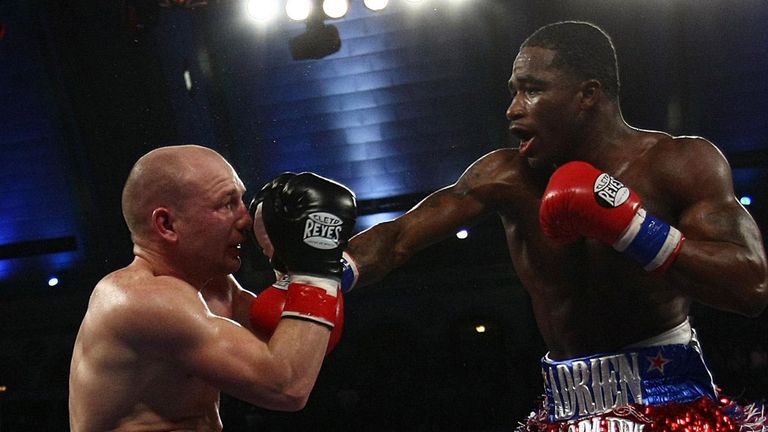 The WBC lightweight champion showcased his class against the British and European title holder, Rees, and in the end had too much for his opponent.
Broner recovered from a first-round flurry from Rees to put the Welshman on the canvas in the fourth with a superb uppercut and forced him to take a knee after a powerful body blow in the following round, and the fight was stopped soon after.
"That was a wonderful performance from Broner," former cruiserweight world champion McCrory told Sky Sports.
"The fight reminded me of Sugar Ray Leonard against Dave Green, in that Broner was a class above. You had the very good European fighter but then you had the brilliant world class fighter.
"I think Broner is going to turn out to be somebody like Floyd Mayweather or Sugar Ray Leonard, although he's more exciting than Mayweather. There are great things ahead for him."
The win improves Broner's record to 26-0, including 22 stoppages, and McCrory reckons the American's display in Atlantic City on Saturday night showed he is set to dominate the elite level.
"I know how good Rees is - he's a quality opponent, a world class campaigner, a former world champion and current British and European champion," he said.
"But I wanted to see what the hype was all about and how good Broner actually was - and now we know he's very good!
"Broner is a two-weight world champion at 23. That's incredible. When he turned it on and started to open up he looked terrific.
"He's got pure, natural ability; he punches from all angles with class. He hits the head, he hits the body, his defensive skills were excellent - he does everything well. When he opens up he looks like the next superstar of boxing."
Courage
However, McCrory also paid tribute to Rees' valiant effort and said there was no shame in the experienced Briton losing to rising star Broner.
"Nobody would ever doubt the courage of Gavin Rees," he said.
"We know what he is: he's a world class performer, he's as tough as they come and a real little bulldog. We knew he was going to come over, show no respect, get in there and have a fight and that's exactly what he did.
"He came out of that with cheers form the American crowd who liked what they saw; they realised he had plenty of bottle, plenty of heart. In fact that was as good as he has ever, ever performed against someone like that. But Broner was a level above."