Derry Mathews' grit can defy Anthony Crolla, says Glenn McCrory
Derry Mathews vanquished Anthony Crolla last year and Glenn McCrory is backing him to do it again.
Last Updated: 28/03/13 5:56pm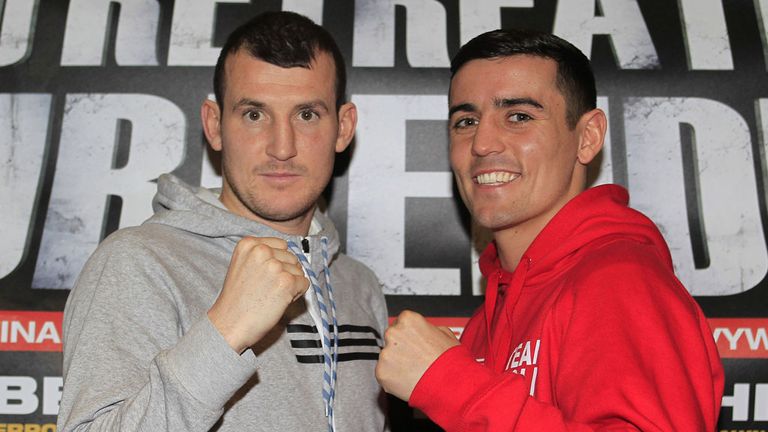 Both lightweights will be amped up, with Mathews wanting to put on a show in front of his home fans in Liverpool and Crolla, who can't really afford a loss, looking to get his career back on track, and I'm expecting a terrific duel.
Mathews put in a very impressive display a year ago in Oldham to win the British strap - he floored his opponent in the third round and recorded a stoppage win in the sixth - but I think Crolla lost the bout more than his rival won it.
The Manchester fighter's tactics were all wrong; he boxed straight at Mathews, trying to press him back and take control, but he quickly found out that his adversary was better than he thought and he couldn't make the tactical changes needed to break him down.
If Crolla, who got hit an alarming number of times in the clash, is going to even the score he needs to have a plan B up his sleeve, which should involve moving a bit more and showing greater defensive nous.
He was intent on getting rid of Mathews last time out and, in his mind, he probably thought it would be a simple task, but I expect him to be a lot more focussed on Saturday evening.
Mathews, though, will be extremely confident because he knows he has knocked his opponent out once before, while I think he will be even fitter than he was in the initial bout, when he only had six weeks' preparation.
The Liverpudlian has a real stubborn streak, too - he has come back from defeats and extended his career when many pundits thought he was done - and he is a really strong guy to boot.
Crolla will be shown that on Saturday in the duo's Commonwealth title match and because I'm not sure how much he can change, I expect Mathews to come out on top again in a fight that should be similar to, but longer than, their first.
Undisputed
The winner this weekend will boost their future prospects but I'm not sure either Mathews or Crolla, both very good domestic fighters, will advance much further up the ranks; they could challenge at world level but would lose to any of the top boys.
We shouldn't moan about that, though, and should instead look to some exciting Brit on Brit matches between those two and the likes of Gavin Rees, Kevin Mitchell, Curtis Woodhouse and whichever other young lightweights emerge over the next few years.
Our undisputed number one lightweight, however, is WBO champion Ricky Burns, who will be back in action against Puerto Rican Jose A Gonzalez in Glasgow on May 11 in his first fight since joining Matchroom.
As I mentioned a few weeks ago, Ricky deserves more fan adulation than he currently gets because he has turned himself from a virtual journeyman into a solid world champion and, alongside Miguel Vazquez and the supremely talented Adrien Broner, one of the top three lightweights on the globe.
Scotland has got a fantastic lightweight legacy with Ken Buchanan and Sky Sports' very own Jim Watt having formerly won world title gold and Ricky has the same qualities those two greats had; he is gritty, has height and reach, is no frills in the ring, and gives you hell.
Ricky has proved he has the ability to perform at different weights - he is a former world super-featherweight champion after all - and if he does remain a powerful force at lightweight he could be tempted to try something different.
But I think that, with Broner likely to move up to light-welterweight at some point, Burns could be the dominant presence in the lightweight community for the next five or so years.
To see Mathews' clash with Crolla and Tony Bellew's light-heavyweight showdown with Isaac Chilemba, tune into Sky Sports 1 HD from 9pm on Saturday.