Warren 'no' to Haye/Chisora
Frank Warren says he would not promote any future fight between David Haye and Dereck Chisora following Saturday night's events.
Last Updated: 20/02/12 6:40pm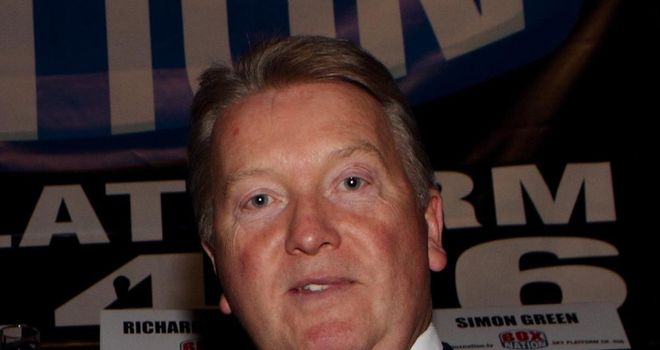 Frank Warren says he has no plans to promote any potential future match-up between David Haye and Dereck Chisora.
A fight between the two down the road would now seem fairly probable after they brawled at the press conference following Chisora's points defeat at the hands of Vitali Klitschko in Munich on Saturday night.
But Warren, Chisora's promoter, says he doesn't feel he could be involved in putting on a confrontation inside the ring.
"I'm sure down the road that [the bout] will probably happen now, but I don't feel I could do that," he said.
"Any differences they had, that should have happened in the ring rather than instead of the circumstances it did."
Warren also claimed the blame for the disgraceful scenes should be shared rather than dumped solely at the door of his fighter.
"His emotions were high, his face was bleeding," Warren said of Chisora. "But it was unacceptable. I'm not trying to defend him - I'm just explaining the facts and what exactly did happen.
"What happened as far as Dereck's concerned [threatening to shoot Haye] - call it 'street talk', call it whatever you want - it's ridiculous, it's out of order, it's wrong.
"Nobody can condone that. Saying you're going to shoot somebody in front of 250 press, to say the least, is a stupid remark.
Unacceptable
"It was unacceptable. Everybody has to accept some responsibility - Dereck Chisora, David Haye, the British Boxing Board of Control, myself..."
The 59-year-old continued: "Could I have stopped it? I doubt it. What could have stopped it is had the German promoters had some adequate security. But they didn't. [Chisora's trainer] Don Charles, you see the transcripts of what he said - 'please get that man out of here' - but they didn't have any security.
"The BBBofC also have to accept some responsibility in as much as their chairman was there and was nowhere to be seen when all this was going on. He disappeared."
Warren was also unhappy that the aftermath overshadowed what had happened in the ring.
"There was a lot of horrible stuff that went on prior to the fight," he said. "What I was more annoyed about was that Dereck Chisora put in a really good performance in the ring. He went there as big underdog and gave Klitschko the hardest fight he has had since he fought Lennox Lewis.
"That was all taken away by David Haye gate-crashing the press conference, calling out Klitschko and I thought that was disrespectful to Dereck Chisora."