New WBA world bantamweight champion Jamie McDonnell looking for unification fight
Jamie McDonnell has set his sights on unifying the bantamweight division after winning the WBA world title at Wembley.
Last Updated: 01/06/14 1:04am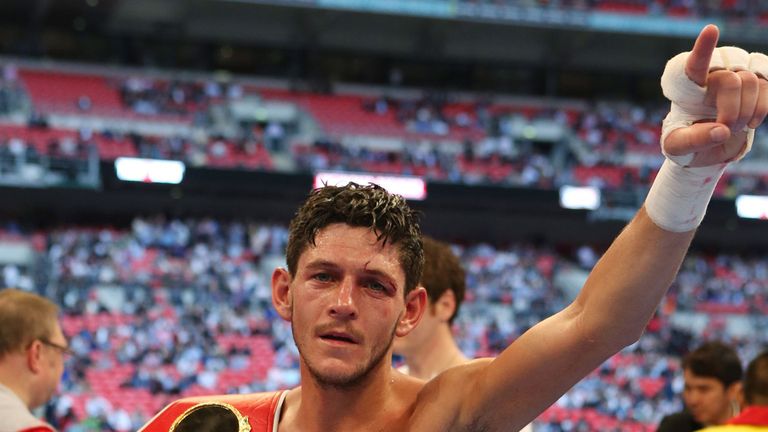 The Doncaster fighter stopped rugged Thai opponent Tabtimdaeng Na Rachawat in the 10th round of their contest for the vacant crown.
The 28-year-old won the IBF version of the title a year ago but was stripped before he made a single defence, and is aiming to finish what he started in May 2013.
"It means everything, I got stripped of the IBF title as every one knows. (Winning) the WBA world title just gets things back on track," McDonnell told Sky Sports Box Office.
"I'm a year down the line and it's taken a year away from my life - pay days and everything.
Back on track
"But now everything is back on track, I'm world champion again and I'm sure (promoter) Eddie (Hearn) can go and get me a unification fight with any of the champions out there.
"I'm the best in this division, I've proved it twice now. Stick me in the ring with anyone and I'll bust them."
McDonnell's old IBF title is now held by fellow Brit Stuart Hall, who will defend against Paul Butler in Newcastle on June 7. McDonnell says he would be interested in fighting the winner of that domestic clash.
He added: "I'll fight anyone, I've spoken to Stuart and we both want the fight."
Na Rachawat was behind on the scorecards but continued to put on the pressure throughout the fight and looked set to reach the final bell before McDonnell found the knockout.
"I hit him with a few and slowed him down but, to give him credit, he just kept coming and coming and he just walked onto a hook, I surprised myself," McDonnell said.