Neutral's Corner
We have put fighting folk and Sky Sports stars under the spotlight to see who they think is going to win the Froch-Groves rematch
Last Updated: 29/05/14 2:36pm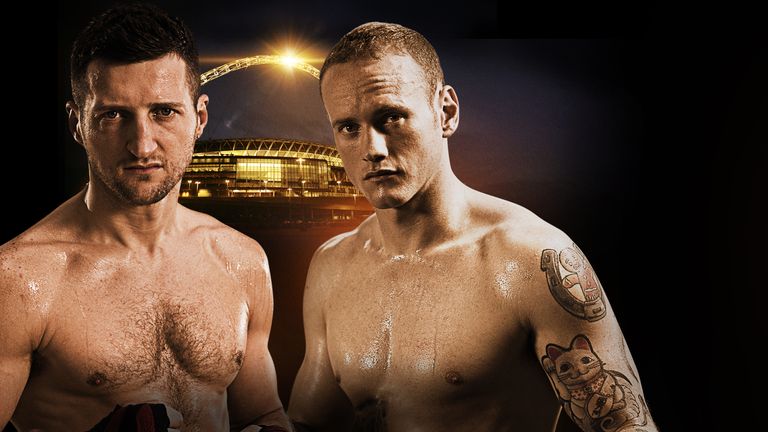 It looks like a 50-50 pick'em fight so we have put famous fighting folk and Sky Sports stars under the spotlight to see who they think is going to win.
Do the familiar faces fancy Carl Froch making it two-out-of-two, or do they go for George Groves to level the series.
Have a look at what we've got so far...
KEVIN MITCHELL - LIGHTWEIGHT CHALLENGER
"I fancy Groves is going to try and keep away, catch him late. He's going to change and I think Carl is going to be fitter, more motivated and won't get hit as easily. It took five or six to find out where he was after that first round but he found his feet and did the job. I was going to sit on the fence and they are both good lads, but if I had to pick one I'd go with Carl Froch."
JEFF STELLING - SKY SPORTS FOOTBALL
"I think George Groves is going to win. I thought the stoppage was disgraceful; it was like stopping a game with the underdogs 2-1 up with five minutes to go! Everybody said Froch was on top and he was but he a lot older and who knows how his stamina would have held up? Groves was well ahead and he certainly deserves another crack - I don't see any reason why he shouldn't win this one."
DUKE McKENZIE - FORMER THREE-WEIGHT WORLD CHAMPION
"George Groves has to box more. Carl Froch can't and although he is a predator who will hunt you down, he is slowing down and I do see this going the distance. I won't say it's easy because Carl is never easy and it is going to be tough night that will leave them both exhausted, but I am expecting George Groves to win on points this time. Quite comfortably too."
KELVIN TATUM - SKY SPORTS SPEEDWAY
"I think Carl Froch will be better prepared, he may just have underestimated Mr Groves - and he won't make the same mistake. It wouldn't surprise me if Froch wins and calls it a day because there is so much interest in this, it's a huge venue and it will be difficult to beat. I'll be in the Czech Republic for the next round of the World Championships - I'll keep an eye on it!"
GLENN CATLEY - FORMER WORLD CHAMPION
"I think we're going to see a lot tighter Carl Froch, someone who's going to give George Groves a lot more respect this time. I see Froch being a lot tighter, going to work a lot sooner than in the previous fight, and setting about Groves and wearing him and breaking him down. I see it being stopped two or three rounds earlier than we saw last time. Carl Froch to do it again."
STEVO - SKY SPORTS RUGBY LEAGUE
"I've just got a funny feeling... Carl Froch to win. He's got the upper hand, I think he's confident and he's got that glint in his eye again. I hope he does George Groves in the early rounds because this time I do fear Froch might start tire - and I definitely think he's tired of Groves' boasting! In that case, I would be hoping he'll go for a knock-out in maybe the fifth or sixth round.
PAUL SMITH - WORLD TITLE CHALLENGER
"I'd put Groves as the favourite but I do think it's Froch's to lose - as it was before. I think we could be looking at the same result; a mid to late stoppage for Carl Froch. It is going to be a real barnstormer because Groves has so much energy that he has to take away, if he is going to stop him. But Groves could be over-confident and walk into a big right - and that'd be curtains."
CHRIS KAMARA - SKY SPORTS FOOTBALL
"I said Froch would win the last one - I know him, he's a mate of mine. I felt for him because it wasn't his decision to stop the fight and on my card he was, at best, it was even. I like the way Groves has conducted himself, a little bit of banter, a little tongue-in-cheek. I can't jump ship now though. Carl Froch knows more about him now: he won't make the same mistakes this time."
JOE CALZAGHE - UNDEFEATED FORMER WORLD CHAMPION
"I think a a similar fight to the first one will unfold second time around. I wouldn't put any money on this that's for sure! It's one of those toss-em-up-in-the-air fights and there are question marks about both fighters. But if I have to edge towards someone, I would go for George Groves. And possibly on points. The one thing I do know is this is going to be a hard fight."
TUBES - SOCCER AM
"This is going to be big! I was lucky enough to be at the first one between these warriors and it was the best fight I've ever seen. The atmosphere was electric! This is going to be bigger and better and I'm going for George Grove for two reasons: he supports the mighty Blues and he's on the show today! I feel sorry for them because whoever wins has to face me and trust me, they'll getting punished. Big time!"
JOHN MURRAY - FORMER EUROPEAN CHAMPION
"Even if they don't like each other, I think Groves has earned his respect. But I think Froch will up his game and if he stays away from tha first-round knockdown this time he is going to be fresher like some of his old fights, so I am predicting a Carl Froch win. By stoppage and if he stopped him first time he will do it again - and will look better this time."
SCOTT QUINNELL - SKY SPORTS RUGBY
"I have been very luck with the School of Hard Knocks to be able to go down to do a boxing session at David Haye's gym. George Groves was training and he planted a few shots on me - the kid can punch! I think he was unlucky that the first fight got stopped and I think he may just scrape through and win this one - I think it may well go down to points though."
TYSON FURY - HEAVYWEIGHT CHALLENGER
"I've got to say I see Carl Froch knocking him out quickly this time. I've got no grudges against George Groves. I think he's achieved a lot to get where he is at his age but from what I've seen from Carl Froch, he always fights better in rematches. I suppose he is actually quite old for a super-middleweight but it is going to be an entertaining fight..."
NASSER HUSSAIN - SKY SPORTS CRICKET
"I fancied Froch for the first fight and I'm going to stick with him again because he looks even more focused this time around. George Groves proved he's no mug and I expect him to come out hard again but Froch has too much to lose this time; he's changed how he's training and looks really up for it. I'm going for Carl Froch with another late stoppage."
RICKY BURNS - FORMER TWO-WEIGHT WORLD CHAMPION
"I'm leaning towards Carl. Although the stoppage was a bit premature, you could see that he was starting to unload a bit more and he seemed to be catching him with clean head shots. I just think it's going to be the same scenario in this fight. I think Carl Froch might lose the first few rounds but his strength will take over - especially in the championship rounds."
PHIL THOMPSON - SKY SPORTS FOOTBALL
"It's sensational. These are proper fighters - in the ring that is. I hate all the stuff that goes on before it and around it when they spar in front of cameras. I know you need to hype it up but these two lads don't need to hype it up... but they are quite good at that too! I am not sure how, but George Groves to win - and Froch v Groves III at Wembley again!"
ALEX ARTHUR - FORMER WORLD CHAMPION
"I know that if you can beat Carl Froch with your mind you've got a great chance of beating him with your hands, so will it go the same way as the first one? I think it can go two ways: Groves winning a close points win or Carl will stop him late on again. I'll go with George Groves on a split decision."
WAYNE MARDLE - SKY SPORTS DARTS
"I will be appearing in Slough that night and I will be doing all I can to watch the fight - but if not I'll have to rely on my missus texting me updates from home! I am going to go for a Carl Froch win because winning the first one has got to be a big bonus and confidence-booster for him going into the rematch - unless deep down he feels he got away with it."
DARREN BARKER - FORMER WORLD CHAMPION
"I don't know how this is going to go, I honestly don't know how! But I'm going to go with Carl Froch, just because listening to him of late makes me lean towards him. We don't know what he's going to do after it's over but I think he wants to sign off on a high. I just think he's really going to give it everything. But I don't know how... and no-one else does either!"
CHARLIE NICHOLAS - SKY SPORTS FOOTBALL
"Groves is asking for it! He's so opinionated and he's just trying to annoy Froch consistently. At the end of the day it isn't about Groves' mentality and his bluff, when you step into the boxing ring it's about who's going to be standing last. It will be close, it will be enthralling but I think the experience of Carl Froch will sneak it. I'll be watching, it's not to be missed!"
NATHAN CLEVERLY - CRUISERWEIGHT CHALLENGER
"I like George Groves, he's a good friend. I felt he would have won the first fight and I geniunely did feel he would have been too sharp for Froch, but I can just see Froch in the rematch, being more switched on, applying the pressure early and I fear he's going to land some of his big shots. I think he can just edge this one. Carl Froch on points."
PHIL CLARKE - SKY SPORTS SUPER LEAGUE
"I am going to stick my neck out... Carl Froch is going to make it two out of two. I just think he seriously under-estimated George Groves but from what I hear he is far more in-tune now. Froch knows the kid can hurt him so he has to take him seriously and that means Groves has to box at a higher level if he is going to win. It will go all the way but I think Carl Froch will edge it."