Morgan on fire
Michael Holding hails Eoin Morgan's display in England's victory over South Africa at the Oval.
Last Updated: 01/09/12 10:46am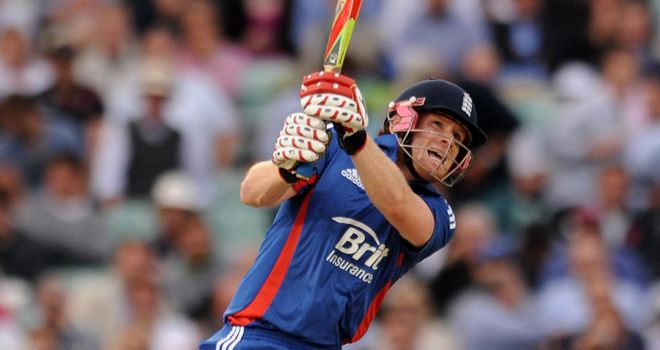 Sky Sports expert Michael Holding praised the performance of Eoin Morgan after the batsman helped England to their first victory over South Africa this summer in the third match of the NatWest Series at the Oval.
Both Morgan and Jonathan Trott (71) hit half centuries as England reached their 211 target with 12 balls to spare. Morgan in particular stood out with a fluent 73 from 67 balls.
Holding was impressed with the variety of shots played by the 25-year-old and said it was the result of a potent combination of confidence, strength and ability.
He told Sky Sports: "He is a confident player. He knows he has a licence to go out and play shots. But apart from knowing he has a licence he knows he has the ability to do it.
"He has good hand-eye co-ordination. He strikes the ball very well. I have heard Michael Atherton talk about the strong fore-arms.
"He is not a very big man and, although he times the ball well, he needs a bit of strength because he pulls it away a lot of the time.
"As we know he has all these creative shots: reverse sweep, slog over extra-cover which some people can play and some people make look a little hard. He plays some good shots.
"He is a young man; he has a good hand-eye co-ordination as we know so he should be able to play those shots for a long while."
Test return?
Morgan made his Test debut for England in May 2010 but struggled to establish himself in the side and his last appearance in the longer format of the game came against Pakistan in February.
However, with several batting spots up for grabs following the retirement of Andrew Strauss and the continued absence of Kevin Pietersen, Morgan could be pushing for a recall this winter.
And former England captain Sir Ian Botham believes Morgan's batting has improved sufficiently to earn another bash at Test cricket.
"Also I think he wants to get back into the Test side," Botham said. "He has publicly stated that he would give up his IPL cricket to get back into the Test side.
"I think he has enough talent to do it. He has sorted out a few things with his stance but he is a much better player now."