Mickey Arthur claims batsmen will face a "baptism of fire" during South Africa's tour of Australia
Mickey Arthur claims that top-order batsmen will face a "baptism of fire" in South Africa's upcoming tour of Australia.
Last Updated: 16/10/12 9:27am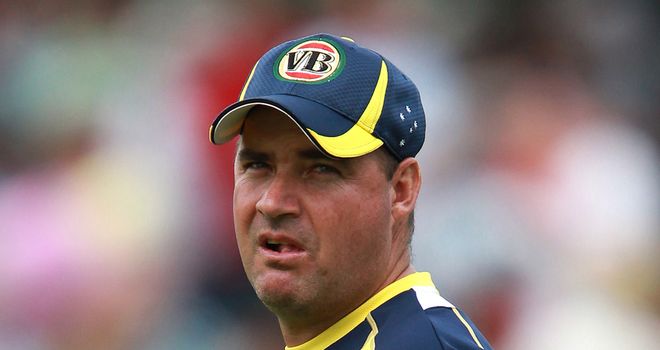 In the year ahead, Australia will be looking to reclaim cricket's world number one ranking during a packed Test schedule, starting with the first of three Tests against current top seeds South Africa on November 9.
Arthur, speaking of the series, said: "It's going to be about the batters.
"It is going to be about which top six can adapt better, which top six is going to be more consistent over the three Test series. I think both top sixes are in for a real baptism of fire."
Selector John Inverarity said there could be up to five pace bowlers in the squad for the first Test at the Gabba, with Peter Siddle, James Pattinson, Mitchell Starc and Ben Hilfenhaus all in the mix.
Inverarity added: "We're just delighted that we've got the pace bowling on tap that we have."
The most difficult choice for Australia could be over their wicketkeeper and whether to name the more experienced Brad Haddin over Matthew Wade.
Rested and fresh
Inverarity said: "We are aware of all the factors; I mean the fact that Matthew is 24 and rising and Brad turns 35 about now.
"Obviously Matthew is more for the future, but we're very focused on who deserves and who will be best against South Africa."
Cricket Australia also defended the decision to withdraw Shane Watson midway through the Twenty20 Champions League in South Africa to have the all-rounder fresh for the upcoming summer.
Arthur said: "We need Shane to be best prepared for that first Test match.
"For us right now his best preparation is coming back and playing some red-ball cricket."
South-African born Arthur also acknowledged there was an extra incentive for him to "get one over" the Proteas in the upcoming series.
He said: "On a personal level for me, I guess it has a little bit of extra spice to play against the country of your birth, the country that I coached for five years."
However, he admitted that "first and foremost" the series was about Australia getting back to the top position in international cricket.
There have been signs of a revival with a 4-0 whitewash of India last summer at home and the emergence of a new generation of rising stars such as Pattinson, Pat Cummins and David Warner.
Arthur added: "We have a massive opportunity here to get back to number one in the world and that's what this series is going to be about."