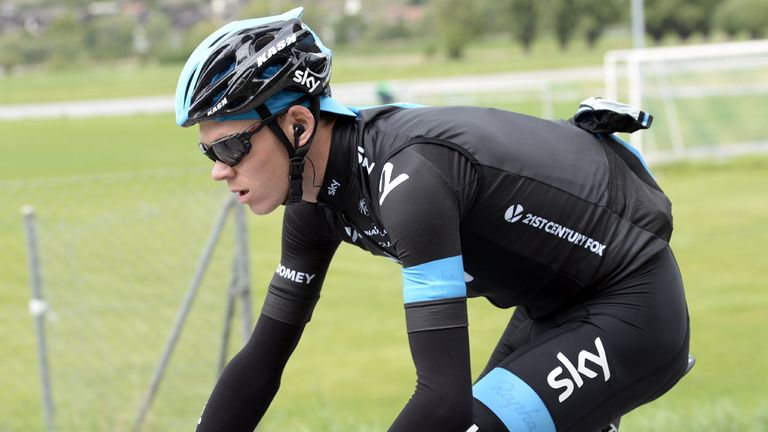 Chris Froome's stage three attack has moved him into prime position to win the Tour de Romandie, says Rob Hayles.
The reigning Tour de France champion has struggled with injury and illness in recent weeks but looked back to his best in Switzerland when he countered an attack from Vincenzo Nibali and powered clear of his rivals on the final climb of the day to Villars.
Nibali is one of the guys who has fantastic acceleration but Froome is obviously in better shape.
Rob Hayles
The Briton, who won this week-long race in 2013, was eventually joined by Katusha's Simon Spilak and pipped to the line by the Slovenian in a two-man sprint finish, but the 57 seconds the pair put into the other main challengers looks to be decisive ahead of Sunday's time trial.
Second-placed Froome should be able to overhaul his one second deficit to Spilak in that test against the clock and Olympic medallist Hayles reckons Team Sky will be more than satisfied with the performance of their star rider.
"It was typical Froome," he told Sky Sports. "He says he's in good shape and he looks in good shape.
"Nibali is one of the guys who has fantastic acceleration - and it was him, when he went on the attack, who caused all the hassle for the guys behind initially - but Froome is obviously in better shape.
"Sky will be happy up to now. It's been good. It's been a big target for Mr Froome and he's showing well.
Tour of Romandie
Stage Four live: 3pm, Sat, Sky Sports 4 HD
"Looking forward to the final stage and time trial, Froome hasn't got a great deal to worry about, although you never know. Froome was trying to get all he could out of the stage and I think he did a pretty good job today."
Power
However, Hayles reckons there are now some concerns for Giro d'Italia holder Nibali.
The Italian is skipping his national three-week race in order to challenge Froome for the yellow jersey at the Tour de France, but looked some way short of the Briton's level on Friday.
Nibali now sits fourth overall, four seconds behind world champion Rui Costa, but both are over a minute behind stage three's breakaway pair, Froome and Spilak.
"It's a two horse race now - although not the two we were expecting," said Hayles. "When Nibali attacked on the final climb it looked like it would draw out the way we thought [with him and Froome in the lead] but Nibali ran out of legs and Froome dropped him.
"Nibali was testing himself but he just didn't have the horse power to back it up, unfortunately for him."
Watch live coverage of Stage Four of the Tour of Romandie: 3pm, Sat, Sky Sports 4 HD