Tour de France: Bradley Wiggins will not leave Team Sky if left out, says Shane Sutton
By Orla Chennaoui
Last Updated: 27/06/14 6:11am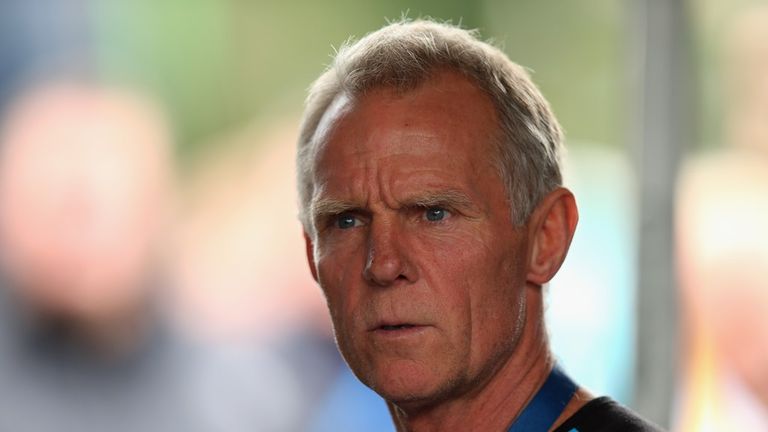 Shane Sutton says he is confident Sir Bradley Wiggins will remain with Team Sky even if he is not named in their nine-man Tour de France squad today, claiming he would be "mad" to leave.
Team Sky principal Sir Dave Brailsford is due to announce the British squad's Tour team this morning, with Wiggins widely expected to miss out on the chance to help team-mate Chris Froome defend his 2013 title.
Asked if he had spoken to Wiggins about his Tour ambitions, Sutton, who is Wiggins's mentor, told Sky Sports News: "Yeah, we have talked about it, and I think if Brad didn't make the team he would be first to put his hand up and support the team along with everyone else.
"Sir Dave's record speaks for itself when it comes to putting teams together and if Brad's not in that line-up, Brad will accept that.
Speculation
"I think Brad knows more than anybody what it takes to win the Tour de France and Brad himself could probably put his hand up and say, 'Am I ready or am I not?' We will just have to wait and see until Dave makes that announcement."
Wiggins's contract with Team Sky expires at the end of this year and speculation has been growing as to whether he will stay with the team should he be unable to realise his ambition to return to the Tour de France.
The Tour is traditionally the time when teams begin transfer negotiations for the season ahead. Among those seeking to secure the British star's signature for 2015 are the Australian team Orica-GreenEdge, who have made no secret of their desire to add an established general classification contender to their roster and see Wiggins as the perfect fit.
He has won the Tour de France, numerous Olympics medals, world titles. The guy is a legend in his own right.
Shane Sutton
However, Sutton, himself an Australian who has worked closely with Wiggins for many years, added: "I think it would be a big mistake on Brad's part. We would love Brad to stay on board.
'Legend'
"Sky has been such a big supporter on our road to [the Olympics in] London, our road to Rio now. I'm quite sure that his representatives, Sir Dave and Sky could sit down and they could map out a great package that gives Brad the flexibility to drop into the Classics, then come back out into the track programme.
"I think when Sky's offering you a hand like that you would be mad to bite it off, to be honest with you, and I'm pretty sure that he will stay with Sky.
"Brad doesn't have to do any more. He's a legend. He wanted to leave the sport a legend and if he walked away tomorrow he leaves a legend.
"He has won the Tour de France, numerous Olympics medals, world titles. The guy is a legend in his own right, so for me, why would he go somewhere else and dent his chances of winning that next gold that he really wants in Rio? I think it would be a bad move for Brad to leave Sky."
Sir Dave Brailsford will appear on Sky Sports News at 11am to discuss Team Sky's Tour de France line-up.