Contador booed at presentation
Defending Tour de France champion Alberto Contador says the possibility he could be stripped of the 2010 title is "ridiculous'.
Last Updated: 01/07/11 8:26am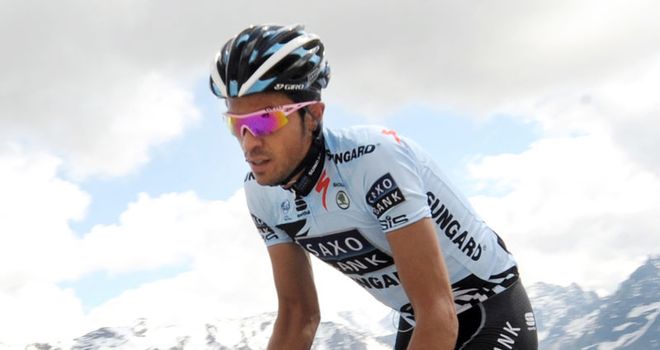 Defending Tour de France champion Alberto Contador was jeered at the official teams' presentation after earlier branding the possibility he could be stripped of the 2010 title as "ridiculous".
After being forced to meet the elephant in the room head on in Les Herbiers when questioned about doping at his Team Saxo Bank-SunGard team's pre-race media conference, the Spaniard's introduction to the stage in the gladiatorial-style arena at the Puy du Fou theme park was met with booing from the watching spectators.
The 28-year-old team leader and favourite for the Tour addressed the media ahead of Saturday's race start in the Vendee region of western France and was confronted on the subject of his as yet unresolved positive test from last year's race.
The Court of Arbitration for Sport will sit on Contador's case in early August.
"The idea that I could lose the Tour seems ridiculous," said Contador.
"Since the beginning of last season no-one has been tested more than me and, let's be clear, no-one will be tested more than me during this race.
"It's ridiculous that I could lose the Tour. But I don't think that's going to happen because I'm fully confident in my lawyers and the outcome of my case.
Zero tolerance
"My position has always been zero tolerance for doping.
"I'm 100% against doping, but everybody can believe what they want to."
Contador, winner of the Tour in 2007, 2009 and 2010, maintains his adverse finding for clenbuterol on the second rest day of last year's Tour was a result of contaminated meat.
The level of clenbuterol - a decongestant and bronchodilator - in his system was minute, 40 times below the threshold at which World Anti-Doping Agency-accredited laboratories must be able to detect.
Nevertheless, Contador was suspended before subsequently being acquitted by the Spanish cycling federation, a decision the International Cycling Union and WADA appealed to CAS.
Despite Contador's assertion, it is possible he could be stripped of the 2010 Tour title, the Giro d'Italia crown he won in May and - if he wins - the 2011 Tour if CAS rule against him.
The case, therefore, is sure to cast a shadow over the duration of the three-week race, which ends in Paris on July 24.
Contador maintains he can cope with the additional pressure of his case.
He added: "The Tour is the race in which I face the most pressure from the media and also from a sporting point of view.
"I will try to stay focused on the challenge and forget everything else. I have come to challenge and do well.
"Many times the pressure is greater off the road than on it. What you have to do is concentrate, know what your objective is and enjoy bike racing."
Saxo Bank-SunGard boss Bjarne Riis - the 1996 Tour champion who later admitted doping during his career - insisted Contador's participation in the race is fair.
The Dane said: "If you don't agree that Alberto is riding, you should question the system and not so much us or him.
"Everybody would love to have had a solution a while ago, before the Tour, but that hasn't happened.
"Alberto was cleared by the system, and has the right to ride.
"As long as he is cleared we will continue to support him and that's also the reason why he is starting in this Tour."
Big challenge
Contador is unsure of his physical state after winning May's Tour of Italy in a race many described as the toughest Grand Tour ever.
He added: "Of course I'm doubting what my form is, what my condition is.
"I don't know if I'm going to be very strong in the Pyrenees but we'll see how it goes."
As in 2008, the race begins without a prologue, Saturday's 191-kilometre road stage between Passage du Gois and Mont des Alouettes Les Herbiers opening the Tour.
And Contador would prefer more opportunities against the clock.
He added: "It's not the best race for me, it's not the best route. I would like for there to be much more time-trialling.
"I remember in 2007 there was 120 kilometres of time-trialling and that suited me.
"The mountains will help me out but I'd prefer more time-trialling."
In each of the last two years Contador has won ahead of Andy Schleck and the Spaniard believes the Luxembourg rider will once again be his greatest challenger for the maillot jaune by the race's end in Paris.
He said: "If I had to name one rival that would be Andy Schleck but there are lots of other riders who have a good chance of winning as well as young riders riding for victory too.
"Others can also have their chance."