Sir Dave Brailsford backs Jason Kenny to rediscover sprint form
Sir Dave Brailsford has backed out-of-form Olympic champion Jason Kenny to return to winning ways.
By Matt Westby in Manchester
Last Updated: 04/11/13 10:53am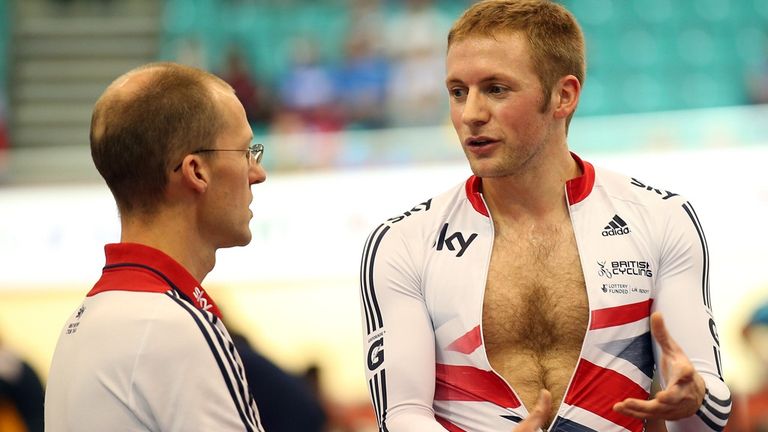 The 25-year-old Briton has not claimed an individual or team sprint gold medal at a major international event since he won both disciplines at the London 2012 Games 15 months ago.
The three-time Olympic champion has even struggled to make it on to the podium in recent meetings and his slump appeared to reach its nadir this weekend, when he failed to progress past the qualifying round of the individual sprint at the 2013/14 season's first UCI Track Cycling World Cup in Manchester.
Qualifying is normally a formality for a rider of Kenny's pedigree, but he was only 24th fastest out of the 41-man field and although the competition was fiercely contested, there was no hiding the 0.355 seconds he was slower than quickest man - and eventual gold-medallist - Robert Forstemann.
British Cycling performance director Brailsford is conscious of Kenny's fall from the highs of London, but is confident the Bolton-born rider will recover his form.
'Catalyst to success'
He said: "It [failing to qualify] will be a bitter pill for him to swallow, but it will wake him up, and they are the important things at this stage of the Olympic cycle.
"Success breeds success and failure can be a catalyst to success. There are periods of success, but, like Jason not qualifying here, I think is a good thing, personally."
Despite backing Kenny to recover, Brailsford warned he will not hesitate to drop a rider who is arguably the biggest male star of the much-celebrated British Cycling set-up should he fail to do so.
"You have to earn your place on merit," he added. "You don't get a free ride. That is the important thing. All the little things that brought these guys and girls their Olympic success don't come for free.
'Paid the price'
"Reputations don't matter. You have to earn your place and so if he [Kenny] has got to go and earn his place, that is for a reason. He has to get his head down and graft."
British Cycling coach Shane Sutton offered mitigation for Kenny's limp showing in the sprint in Manchester by suggesting he had been fatigued from the keirin final the night before, in which he also underwhelmed by finishing fourth.
Other riders in that race also struggled in sprint qualifying, with France's Francois Pervis pulling out and Germany's Maximilian Levy snatching the 16th and final qualifying spot.
Sutton said: "I'm not here to defend him, but if you look at Pervis, struck out; Levy, last man in qualifying; Kenny at 20-odd. You look at all those big finalists in the keirin last night - they all paid the price today."
Qualifying woe
Qualifying has never been Kenny's strongest suit and ever-more poweful riders are turning the 200m flying lap into a test very different to the sprint itself.
Brailsford said qualifying is something Kenny needs to "get sorted out", while Sutton suggested technical tweaks may be the solution.
He added: "I think he has still got that element of speed. We need to go away and get him up the gears and into the bike race because he is faster than anybody on his day and that is what is missing."
Sutton also allayed fears that Kenny's poor showing could make it difficult for him to gather enough points to qualify for the sprint at the world championships in Colombia at the end of February.
Kenny must finish in the top 30 of the World Cup rankings to qualify, but Sutton said: "I think he will be OK points-wise. What he has got in the bank, he should be OK."