Vuelta a Espana: Toned-down 2014 route to contain eight summit finishes
This year's Vuelta a Espana will contain eight summit finishes and 44.5km of individual time-trialling.
Last Updated: 14/01/14 2:10pm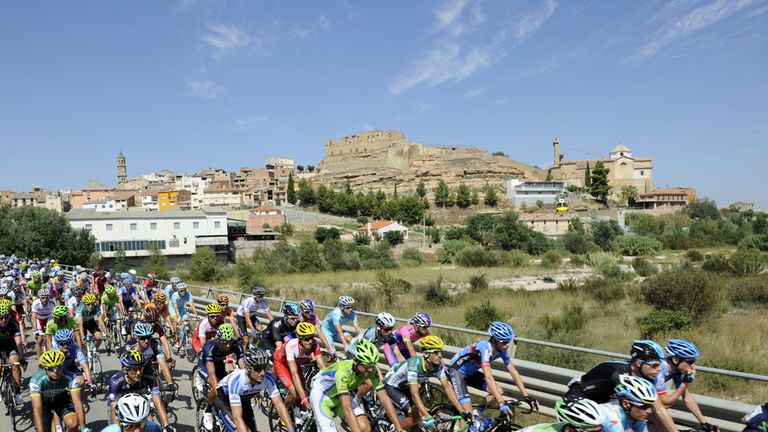 The season's third and final Grand Tour has earned a reputation in the past few years for its mountainous and demanding routes, but at a presentation ceremony in Cadiz, organisers revealed the 2014 instalment will be toned down.
The number of summit finishes has been reduced from 12 in 2013, while the more balanced parcours sees a 5.7km increase in the amount of individual time-trialling from last year.
The race will begin with a 12.6km team time trial in Jerez de la Frontera, in south-western Spain, on Saturday, August 23, and end with a 10km individual time trial in Santiago de Compostela on Sunday, September 14.
In between, the peloton will tackle its first summit finish as early as stage six, in the Sierra Nevada town on La Zubia, and then its second at Valdelinares on stage nine ahead of the first rest day.
Tough middle week
Stage 10 will test the riders with a 34.5km individual time trial, before a punishing second week continues with four summit finishes in six days in northern Spain, a barrage that is almost guaranteed to whittle the field down to the men who will contest overall victory.
Among that spree of summit finishes are the climb to San Miguel de Aralar on stage 11 and then the steep ascent to Lagos de Covadonga on stage 15, which provided thrilling action in the 2012 Vuelta.
After a second rest day, on Tuesday, September 9, the peloton will face two final summit finishes in the last week - to Monte Castrove en Meis on stage 18 and Ancares on stage 20 - before the winner is confirmed following a concluding time trial in Santiago de Compostela.
Although the number of summit finishes has been listed as eight, three additional stages - three, seven and 13 - have uphill finishes.
The race appears set to be contested by a star cast of general classification riders. Spaniards Alberto Contador and Joaquim Rodriguez have already outlined their intention to take part, while Colombians Nairo Quintana and Rigoberto Uran could also make it one of their season goals.
2014 Vuelta a Espana
Stage 1: Saturday, August 23 - Jerez de la Frontera, 12.6km TTT
Stage 2: Sunday, August 24 - Algeciras to San Fernando, 174.4km
Stage 3: Monday, August 25 - Cadiz to Arcos de la Frontera, 188km
Stage 4: Tuesday, August 26 - Mairena del Alcor to Cordoba, 172.6km
Stage 5: Wednesday, August 27 - Priego de Cordoba to Ronda, 182.3km
Stage 6: Thursday, August 28 - Benalmadena to La Zubia, 157.7km
Stage 7: Friday, August 29 - Alhendin to Alcaudete, 165.4km
Stage 8: Saturday, August 30 - Baeza to Albacete, 207.4km
Stage 9: Sunday, August 31 - Carbonera de Guadazaon to Valdelinares, 181km
Monday, September 1 - rest day
Stage 10: Tuesday, September 2 - Monasterio de Santa Maria de Veruela to Borja, 34.5km ITT
Stage 11: Wednesday, September 3 - Pamplona to San Miguel de Aralar, 151km
Stage 12: Thursday, September 4 - Logrono to Logrono, 168km
Stage 13: Friday, September 5 - Belorado to Obregon, 182km
Stage 14: Saturday, September 6 - Santander to La Camperona, 199km
Stage 15: Sunday, September 7 - Oviedo to Lagos de Covadonga, 149km
Stage 16: Monday, September 8 - San Martin del Rey Aurelio to La Farrapona, 158.8km
Tuesday, September 9 - rest day
Stage 17: Wednesday, September 10 - Ortigueria to A Coruna, 174km
Stage 18: Thursday, September 11 - A Estrada to Monte Castrove en Meis, 173.5km
Stage 19: Friday, September 12 - Salvaterra de Mino to Cangas de Morrazo, 176.5km
Stage 20: Saturday, September 13 - Santo Estevo de Riba de Sil to Puerto de Ancares, 163.8km
Stage 21: Sunday, September 14 - Santiago de Compostela to Santiago de Compostela, 10km ITT