Lizzie Armitstead proud to wear British champion's jersey at inaugural Women's Tour
Last Updated: 08/05/14 6:31am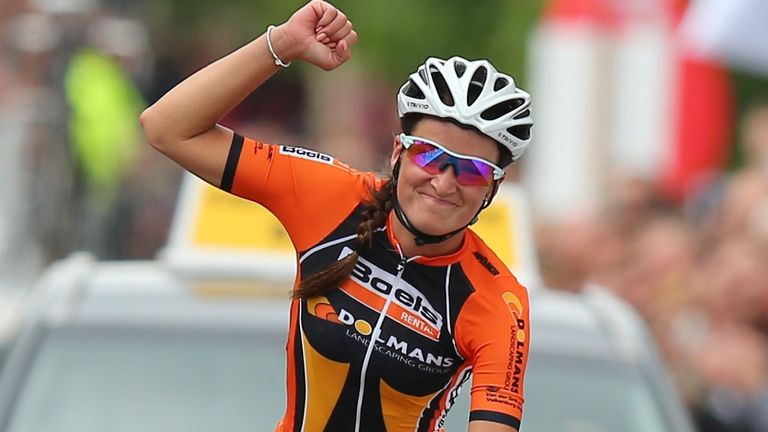 Lizzie Armitstead is confident she can handle the pressure of being British champion in the Friends Life Women's Tour.
Armitstead, Britain's first medallist of London 2012, will wear the white jersey with red and blue bands after winning the title in Glasgow last June.
She is the star home name in a field missing Joanna Rowsell, who has withdrawn due to illness, but Laura Trott will start for Wiggle Honda in Oundle on Wednesday, despite suffering from laryngitis.
The 25-year-old from Otley finished with Olympic silver behind Holland's Marianne Vos, the most dominant rider in cycling, and the pair will renew their rivalry in this week's race, which concludes in Bury St Edmunds on Sunday.
"For me pressure is always a good thing. I'm in good shape," said Armitstead.
"It's an honour to be British champion in Europe because people recognise you for something, even though the stripes confuse people a little bit. They often think I'm Dutch.
"It will be a really proud moment for me to wear the stripes in this race."
Home comforts
Armitstead races for the Dutch Boels-Dolmans team - in a six rider line-up also including Trott's sister Emma - and expects to cope well with blustery conditions.
"The wind will be a key factor and I'm in one of the strongest teams to use that to our advantage, because the Dutch are notorious for riding in the wind," she said.
"In Europe we're used to nice smooth roads and in the UK it's feeling a little like you've got two punctures. Hopefully those roads will be heavy enough to make it hard."
Vos, a multiple world and Olympic champion across a range of formats, relished the challenge of returning to England.
"When I heard about the Women's Tour of course I wanted to participate. It's big," she said.
"This year, 2014, I feel we're getting a change. Women's cycling gets more and more attention with La Course (in Paris on the final day of the Tour de France) and this race.
"After London I still have good memories of that race, with big crowds and all the people were so enthusiastic about cycling. I definitely wanted to come back here and race."